24 April 2008
If you have Youtube videos that will not play get yourself Webroot Window Washer. It seems to clear out bad cache entries or something that prevents some Youtube videos from playing. I found it also helps sometimes if you log out of Youtube before you play videos. Try it....
23 April 2008
It's been a year since I first test drove the Prius I own now!
I had a lot of fun the last two weeks with audio restoration. I own a 27 year old cassette tape of Glenys Lynne. She used to be a member of Four Jacks and a Jill, but she also did some afrikaans solo work.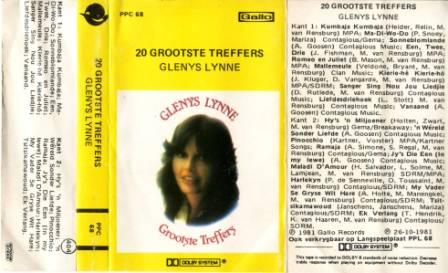 I first copied the tape into digital form onto my computer using a Sony tape deck and Audacity. Afterwards I used iZotope to perform noise reduction and equalization. The results are pretty good. The tape seems to suffer from a considerable loss of high frequency content. Playing back the tape with Dolby B switched on results in a somewhat muffled sound. I decided therefore to copy the tape bypassing all analog filtering and noise reduction. I feel that digital noise reduction is superior to any analog system.
| | |
| --- | --- |
| Using Audacity to record and edit the tape | Using iZotope to perform noise reduction and equalization. This is the sonogram view |
| Spectrum of song with Dolby B on | Spectrum of same song with Dolby B off |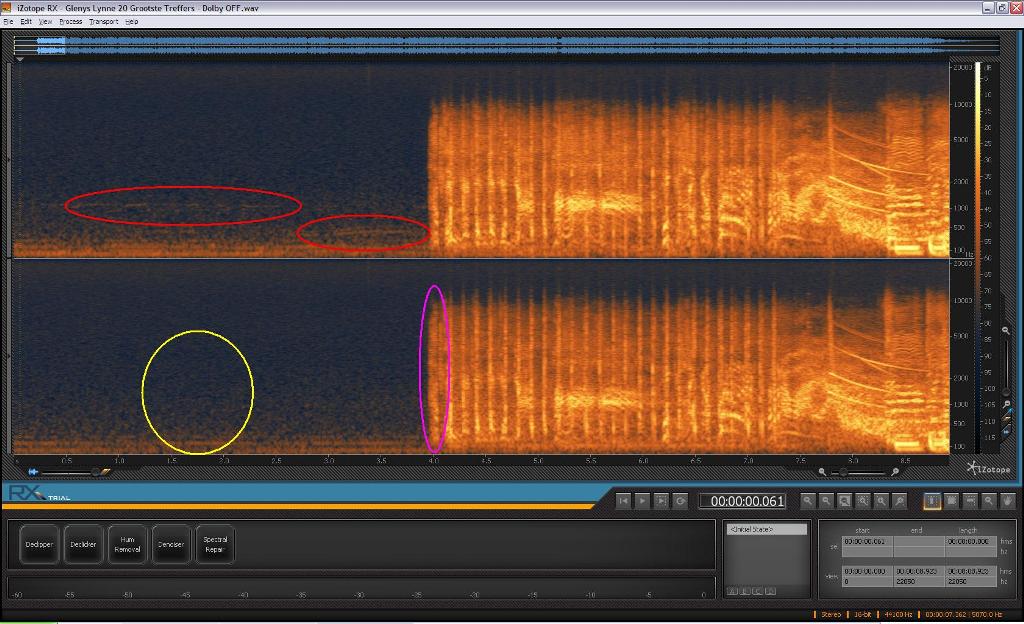 The above image shows the sonogram view of a track on the tape. You can see the two stereo tracks. 0Hz is at the bottom and 20000Hz is at the top of each window. Intensity is indicated by brighter shades of orange. The red ellipses shows print-through. The yellow circle shows tape hiss before applying 18dB of noise reduction. The violet ellipse shows the beginning of the music.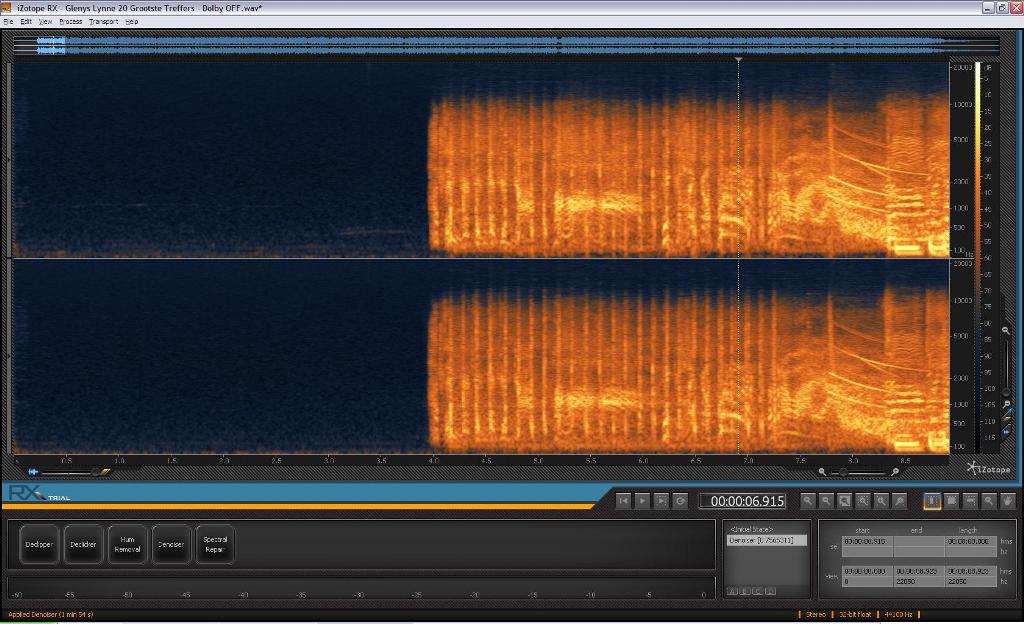 The same view as above AFTER applying a noise reduction algorithm of 18dB. Notice that much of the broadband noise has been removed. The version of iZotope I'm using is a trial version so I cannot save yet.

13 April 2008

I've had my car for almost a year now and I still learn new things. The Prius was empty and the last pip on the fuel gauge was flashing. I put fuel in and afterwards moved the car forward just a bit to visit the garage shop. I was just about to reset the distance readout on the MFD consumption screen when I noticed that its' already been reset. Read my post at Priuschat. The reason I never saw this before is that I always reset the screen myself before I started the car and drove off. This time I moved the car and THEN tried to reset it, but the car already did. In the manual it says that it resets if you ad more than 10L of fuel. Live and learn...

11 April 2008

Had a response from Jo,

Thanks very much for this! I am taking it to the group today for discussion.


On 4/10/08 9:57 AM, "Albertus Bredekamp" <bredekamp@webafrica.org.za> wrote:


Dear Jo,

I've been thinking about the test you're planning. I wouldn't recommend taking a Prius on a race track. It comes down to what the Prius was designed to do. It was designed for efficiency and comfort. It was never intended to be sporty. Jeremy Clarkson tested a Prius on a racetrack and ended up shooting the poor thing down totally because he expected it to do things it was never designed to do. You'll get a better "real world" test just driving the car in city traffic. Here's is where the Prius really shines. It has more chances to run on battery, switch off the engine and use regenerative braking resulting in excellent fuel economy. It would be very informative to your viewers having some kind of stabilized camera rig pointing at the Multi-Function information screen. You can then show clearly how the car uses its' energy while you drive.

As part of this insert it is vital you explain how hybrids fit into the market with diesel vehicles. People in SA think a diesel is the only way to achieve fuel economy. They need to be told about this thing called a "hybrid". Diesel is more expensive than petrol in SA. Diesel vehicles need more frequent servicing and emit particulates. A Prius uses ordinary unleaded and is serviced every 15000km and the exhaust gasses are clean. It also uses the 1NZ-FXE engine. The same engine used in the Yaris albeit with different timing and some other tweaks. The Prius engine uses the atkinson cycle as opposed to the more common otto cycle. The atkinson cycle makes for a more efficient engine, but the downside is that such an engine cannot produce much power (torque). Fortunately the electric motors can compensate for the lack of engine torque. Another advantage is that an electric motor can produce it's maximum torque from 0rpm. This means the Prius pulls like a locomotive. Going up a hill the Prius engine will rev quite high. This is because the high rpm rotational energy of the engine is fed into a generator. That electrcity is then fed to a motor to provide extra torque. It's like an electric gearbox except that the powerflow is electric not mechanical.

Finally you should show that the Prius is a comfortable, spacious, practical and safe vehicle. It does not require any special driving or pampering. Just forget about all the technology. Let the computers worry about that and just enjoy the economy.

Regards

AJ BREDEKAMP

www.myprius.co.za <http://www.myprius.co.za>


jo watson wrote:


ENVIROMENTAL TV SHOW HYBRID LIVING Hi

I am the writer of the TV show "Hybrid Living". It is a TV show about "going green without compromising style". It will be aired on SABC on Wednesday nights, 7:30. The show has been sponsored by Toyota and next week we are shooting a segment on the Prius. I stumbled across your website tonight, and must say, am very keen to have you on the show. We shoot next week Tue and Wednesday, but are Johannesburg based, so I will have to chat to our producer with regards to flights.
Would you be interested though? The premise is simple, we take a Prius out onto a racetrack and test it. We are trying to organise Kyalami, but if not, we will take it for a spin on the road.
Please let me know if you would be interested. If you are unable to do this, may I please call you sometime to chat about the Prius- you seem to be the absolute right person for that.

Thanks and have a good evening

Jo watson
8 April 2008
I had an interesting e-mail from someone called Jo Watson:
Hi

I am the writer of the TV show "Hybrid Living". It is a TV show about "going green without compromising style". It will be aired on SABC on Wednesday nights, 7:30. The show has been sponsored by Toyota and next week we are shooting a segment on the Prius. I stumbled across your website tonight, and must say, am very keen to have you on the show. We shoot next week Tue and Wednesday, but are Johannesburg based, so I will have to chat to our producer with regards to flights.
Would you be interested though? The premise is simple, we take a Prius out onto a racetrack and test it. We are trying to organise Kyalami, but if not, we will take it for a spin on the road.
Please let me know if you would be interested. If you are unable to do this, may I please call you sometime to chat about the Prius- you seem to be the absolute right person for that.

Thanks and have a good evening

Jo watson

I have replied indicating that I would love to be involved, but have heard nothing back so far. I have also sent them advice on how to conduct testing, but alas, I got no reply. Whatever....The show has a website, hybridliving.co.za. It's not the first time a TV show was built around a car. Ever heard of the Edsel show?
1957

to

2008
And finally I would like to say:
Hi Lauren! Thanks for the e-mail. I love hearing from other Prius fans.
28 March 2008
Installed the new 12V battery.
27 March 2008
Picked up the new 12V battery from Market Toyota Cavendish. It's an original GS made in Japan. It came all nicely packaged. The invoice.
25 March 2008
I ordered a new 12V battery from Market Toyota Cavendish. I was quoted R730 and it should arrive within 4 days. So let's see. It's supposedly an original GS battery imported from Japan.
23 March 2008
The 12V battery is holding a charge and I've tested it with a load. Gonna put it back and see what happens. I'm gonna try and get a quote for a replacement battery from Toyota. It is likely to be an expensive Japanese import though. I'm seriously considering using a locally built replacement. Anything that is close in capacity and physical layout/size should be fine. Put the battery back, took her for a drive. Seems OK.
22 March 2008
The 12 Volt battery suddenly died on me today. I couldn't unlock using the remote and I had to jump the car using a small 12V lead-acid battery I had. One can do this because the 12V battery is only needed to close a couple of relays. Read my Priuschat post. The 12V battery had some dry cells so I added water. It's charging now.
12 March 2008
Petrol is now over R8.00 per litre. I was sitting in traffic this morning and a man next to me motioned for me to roll down my window. He asked me what my fuel consumption was. People are curious about the Prius. There's not that many around and people seem puzzled about the Hybrid badge.
9 March 2008
My cars' odometer ticked over to 50 000km today! I've done 18 500km so far and not a spot of trouble. 10 000 km till her next service.
28 February 2008
I flew to Johannesburg with a professor from CPUTs new Energy Institute to meet with representatives of Eskom DSM and Wits University. We had a brainstorming session about how to deal with the issue of the standby power consumption of domestic appliances. The idea is to create a campaign to raise awareness among the SA public. People don't realise that many appliances in their homes continue to draw power after you switch them off with the remote control. This is called "Standby Power".
I feel guilty every time I fly. This is because flying is one of the most carbon intensive forms of travel that exist. This is why one should always offset your carbon footprint using Terrapass or another such carbon trading scheme.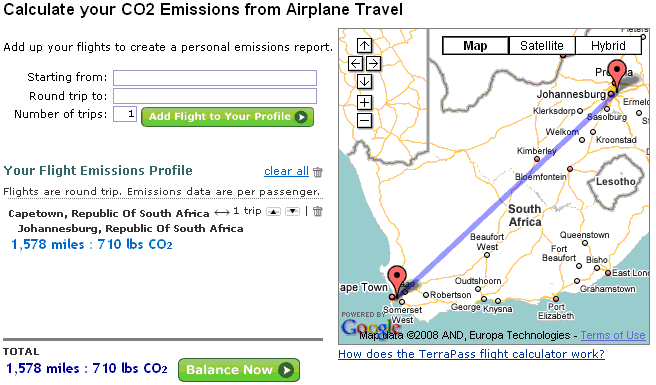 A single Cape Town-Joburg round trip spews out 322 kg of CO2. The cost to offset this is only R30.00.
26 February 2008
Is this the next Prius? Toyota will present the new generation Prius in January at the 2009 North American International Auto Show. I can't wait.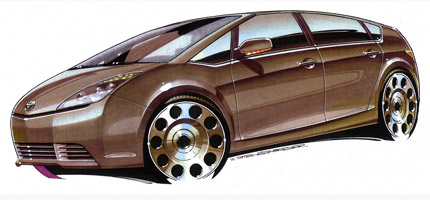 I'm still struggling to get the hosting moved. There was an issue with DNS and name servers. I hope it's sorted out now.
23 February 2008
MyPrius.co.za is now solar powered! The hosting for the site has been moved to greenesthost.com whos servers are co-located with aiso.net. The servers are all powered using solar energy. Take a look at their PV panels. I had quite a lot of trouble going from Windows hosting to Linux hosting when it came to file names and the whole uppercase-lowercase issue. I sorted it out now.
My Prius odo is currently on 49 125 km. This means I have driven about 17 500km in 10 months.

8 February 2008
I redesigned the entire myprius.co.za website. The old design has always bothered me, so I really ripped into all the features of Frontpage. I'm in the middle of a very good tank now, but the strong winds and extremely hot weather is messing with my economy. I just have to use the air-conditioner in this 30C+ weather. The strong south-easter also makes driving a bit of a chore sometimes as the car has to push against extra resistance. So far I've done over 600km at 4.7l/100km. Not bad. Even if I say so myself.
22 January 2008
South Africans, including myself, are fuming at ESKOMs lack of planning. This lack of planning has now resulted in South Africans having to endure "load shedding". A nice term for being left in the dark. It doesn't look as though the condition is going to improve anytime soon. Building power stations take time. New nuclear power stations are in the pipeline, but these could take years to come online. In the meantime government is looking for ways to encourage people to reduce their demand for electricity. One incentive that'll be offered by ESKOM are discounts on solar water heaters. That's a good start as solar water heating has the ability to save a lot of electricity.
Please visit:
Read what happens to people when the power goes out.
16 January 2008
Key fob trouble. Well kind of. I went to a local shop and parked the Prius. It would not lock. I figure that the battery in the key fob is going flat so I get in the car and drive back home which is only about 1.5 km. I get home, pull into the garage and test the key fob remote. It's working fine. I then try to find the spare key fob. It's not in its' usual place. So I panic and turn the house upside down looking for it. I eventually found it in a weird place...Don't ask.
Getting back to my story, I drive back to the same shop and park in the same spot. Lock the Prius with the remote. Just to check, I press "unlock" on the remote....nothing. Ok, no biggie I figure I've got the small backup key inside the fob. First though I go to a camera shop and buy a new battery for the key fob remote. Try to install the battery in the shop, but they don't have the right screwdriver. Back at the Prius I unlock the door with the little spare key. The alarm goes off. I put the key fob in its' slot and press Start. Car switches on and alarm stops blaring. I go back home...again.
Back home I change the battery in the remote and all is well again. Oi! I have a theory as to why the remote worked in my garage and not in the parking lot. It could be that the parking lot is much more noisy in the RF part of the spectrum where the remote works than my garage. A "weak" remote might have enough S/N ratio in a RF quiet garage to operate the car, but not in a RF noisy parking lot. Here's a video for you to enjoy. Hehe. I think this guy's serious.
Amplify your car remote signal with your head
13 January 2008
Word on the forums are that car dealers are already being invited to view the next generation Prius. Everybody is frustratingly tight-lipped though. Do a Google image search for "Next Generation Prius".
8 January 2008
My brother in Ireland gave me a Sony MiniDisc player/recorder he wasn't using anymore. It is now doing great service providing music in my Prius via the AUX input in the centre console. I record music from DMX on DStv to disc and then play it in my car. Very nice. This way I can get an entire disc of 70s or 80s or whatever I like.
4 January 2008
I was overseas for three weeks visiting family in Switzerland and Ireland. As a result my Prius was parked all that time. I was a bit nervous about how the batteries (HV and 12V) would handle standing for that long. When I parked the car the HV battery was full (all green bars). I can report that in three weeks the HV battery only lost one bar. She also started up with no problems.
I saw quite a few Prii in Switzerland and a few in Ireland as well. On my way back on the plane I saw an Avis add on the back of SAAs' Sawubona magazine. Avis now rents out the Prius as well. So why not rent one for a week and see how you like it? The Prius is classified as Group H on Avis' website. Before I bought my Prius I also wanted to rent one to test out, but back then no-one had them.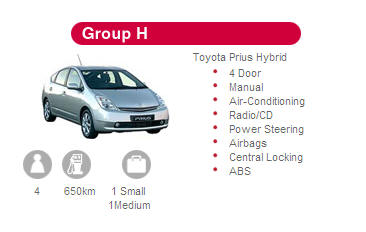 2 December 2007
Now here's something interesting. Skyonic has developed a technology called Skymine whereby CO2 emissions are turned into baking soda. Have a look at CNN.com. Capturing CO2 in a solid form has clear advantages to trying to handle it while still in gaseous form. The Skymine process removes heavy metals from flue gas as well and produces better-than-food grade bicarb. This can be sold to offset the cost of the process. Very clever. If solid CO2 capture technology can be fitted to every factory and power plant, CO2 emissions can become a moot point. Bicarb is harmless, clean and can make your fridge smell nice too.
Monday 26 November 2007
My car went into Helderberg Toyota this morning for its' 45000km service. I dropped the car off at 8:00. The whole process was very efficient. I drove into the service bay reception and all the paperwork was ready to go. The service agent was also efficient, helpful and greeted me by name. At 13:30 I got a call to say the car was ready. I picked her up at about 15:15. Again the process was quick and efficient. The only item I had to pay for was a wheel alignment and balancing I had requested. So in total the service only cost me R290. There was no problems and she only needed oil, oil filter gasket and filter. They didn't overfill the engine with oil either. Its' spot-on. They refilled my empty window washer bottle, although they didn't put detergent in. The engine bay has been cleaned, the car washed and the wheels polished. The interior was also vacuumed. The only thing I noticed was a missing lint free cloth I had in the glove compartment. That's it. All in all a pleasant servicing experience. I'll give them 8/10.
This might be silly, but I was impressed cause they spelt my last name correctly on the paperwork and got all my details right. People always screw it up somehow...Her next service is due at 60000km. I borrowed a 1994 BMW 540i E34 for the day. The Prius felt so quiet and smooth afterwards.
Wednesday 7 November 2007
One of the robotic vehicles that took part in the DARPA Urban Challenge is a modified, robotic, driverless Toyota Prius! Go see....
The idea is to develop a robotic vehicle capable of traversing an urban city environment with no input from a driver. Of course one can use ANY vehicle for your test bed. I just thought it cool that this team chose a Prius. It is already the most advanced vehicle on the road today. Why not go one step further? It is DARPA research initiatives that brought us the Internet amongst other things.
Monday 5 November 2007
Just about 1500km to go until my Prius gets its' 45000km service. Made the booking for 26/11/2007.
I was busy putting fuel into my car this morning when a man approached me. Their car was standing next to mine at the pump. He was very curious about the Prius and I proceeded to explain about the car and show him and his friends the battery, interior and engine bay. They seemed impressed, especially with the fuel consumption, but thought the car was much more expensive than it really is. They had a Corolla with Mpumalanga number plate. Nice people. It's good to see that people are curious about the technology. It still happens that people stare at my car, not quite knowing what to make of it. Toyota could perhaps have advertised the car a bit better. If you see a white Prius with a CY registration pottering about Somerset-West. Come say Hello.
Thursday 25 October 2007
I'm pleased to see that CAR magazine has started to publish the CO2 emissions of every vehicle in the South African market. I had a look through the comprehensive listing, but could not find another vehicle that beats the CO2 rating of the Prius. Thumbing through the latest issue of CAR, I also looked at what manufacturers are showing at the motor shows. I'm glad to see that more manufacturers are jumping on the PHEV bandwagon. It was perhaps too much to expect people to migrate to EVs immediately. The progression of Hybrid to Plugin-Hybrid to full electric vehicle is more natural and perhaps more palatable to the driving public. We've been putting oil-based fuels in our cars for over 100 years. To expect us to kick the habit so quickly is perhaps unrealistic. We'll have to be weaned off oil and PHEVs are gonna be just the rehab we need.
The very attractive VOLVO ReCharge. The green hubs are wheel mounted motors.
Saturday 20 October 2007
Did you know that the Prius was not Toyotas' first foray into the electric vehicle field? Before the Prius came around, Toyota introduced the RAV4 EV, an all electric version of it's RAV4 SUV. Production of the RAV4 EV ceased in 2003, but much of the technology developed for the RAV4 EV live on in the Prius Hybrid Synergy Drive.
I was digging around on my PC. Found this photo of my cat Alice.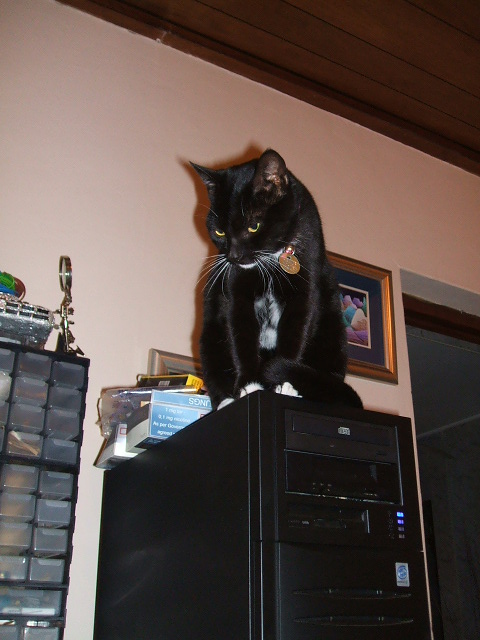 Someone to watch over me.
I read on the Internet that some record companies are bringing out MP3s that are especially mixed to sound good on iPODs. If you know the frequency response of the device that'll be reproducing the music, you can enhance certain aspects of the music during mixing to make it sound better. Problem is that if you take that same MP3 and play it on your expensive Hi-Fi system, it may sound crap. I just thought to myself, OMG its' Dynagroove all over again! Introduced in 1963 by RCA Victor, it was essentially a type of pre-distortion introduced into records of the time.
Please also read the following article: What Happened To Dynamic Range? .Music producers no longer use the entire dynamic range of CDs. I can confirm this. I was listening to a fairly current Celine Dion CD in my car while driving to work the other day. I had the volume set at 20. The disc finished and it changed to a much older Tina Turner CD. Suddenly the sound was much softer. I had to turn to volume level to 40 to get the same loudness. Here's the interesting bit. The Tina Turner CD sounded clear and punchy. When I left the volume at 40 and changed back to the Celine Dion disc, it just sounded LOUD. No dynamic range, just LOUD. Music producers think that louder is better, it's not. You own the volume control. You can make it as loud as you like.
Sunday 14 October 2007
I found the following from AUTOMARK quite interesting. My Prius now has 42000km on it. I paid R220 000 for it 6 months ago. It looks like my car is keeping its' value well. It also looks as if the prices vary quite a bit. I suppose it depends on the condition of the car. R229 000 for a Prius with 55000km is a bit much in my opinion.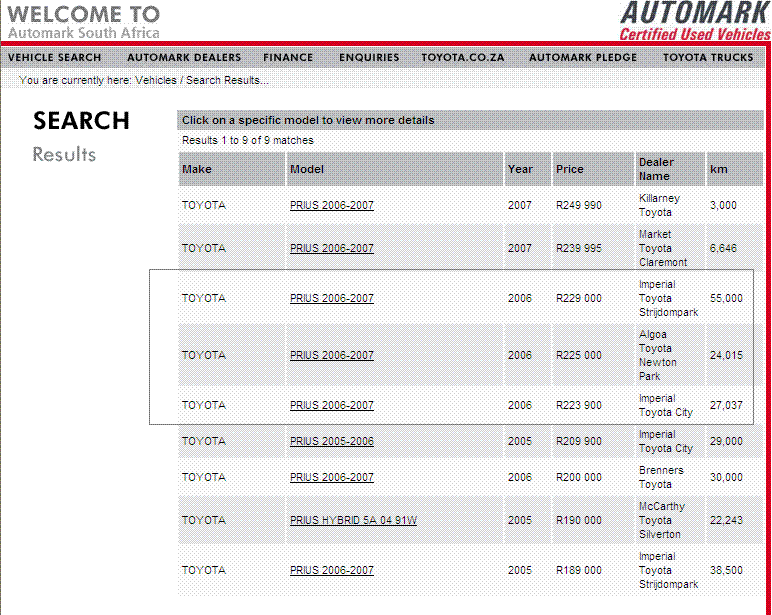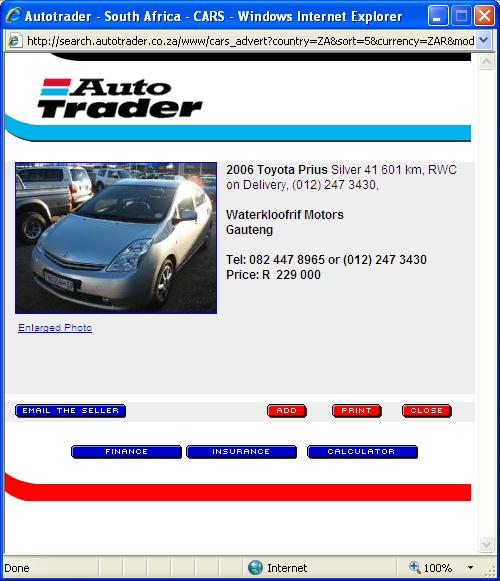 The car above from Auto Trader is almost identical in mileage to mine. Yep, my car has kept its' value well. Yipee
Friday 12 October 2007
I'm excited to read on the Priuschat forum about Hymotion. They plan to release a plugin conversion unit for the Toyota Prius amongst other hybrid vehicles. This unit will allow you to turn your existing Prius into a PHEV or Plugin Hybrid Electric Vehicle. The stock standard Prius doesn't need to be plugged in. It recharges the battery by burning petrol in the engine, but because the battery power is instantly available it allows the engine to run at its' most efficient RPM range. A PHEV takes things one step further by allowing you to recharge the onboard battery by plugging it into a normal wall socket. This will extend the range that the Prius can run on battery only before it has to burn petrol. If the electricity used to recharge the onboard battery is generated using renewable or non-CO2 emitting sources, it also makes the Prius greener.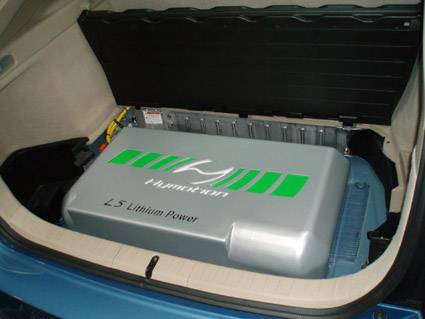 Hymotion PHEV unit installed in the spare wheel well of a stock standard Prius, turning it into a PHEV.
Third-party developers has recognised a gap in the market for upgrading existing Prius, Honda and Ford Hybrids to plugin capability. To that end, much R&D has gone into developing Lithium-Ion batteries and charging units. Such systems will be expensive at first, but like anything, the prices will eventually drop. The possibility exists that I can upgrade my Prius to PHEV in 5 or 6 years time. By that time though the new Prius will be available. The question will be then, turn the older one into a PHEV or buy a new Prius. It would be fun to keep the older one and upgrade it for running around town and use the newer one for longer trips. The grapevine suggests that Toyota will provide a plugin option for the next generation Prius due in about 2009/2010. The problem is that Li-Ion battery are not quite ready for use in cars. There has been numerous reports of Li-Ion batteries in laptops and also Ipods catching fire. I would urge Toyota to wait until the safety issues has been addressed. They seem to be doing just that. A123Systems make next generation Li-Ion batteries that incorporate nano-technology. These are safer and are used in the Hymotion plugin conversion. It looks like A123systems batteries are ready for in-car use.
Thursday 11 October 2007
There's this TV show on MNET-series called Weeds. The show features Prius in many scenes.
Tuesday 9 October 2007
I was pleasantly surprised to find an e-mail from a fellow Prius owner in Gauteng in my inbox this morning. Nice meeting you, Andries! If you visit my site, drop me an e-mail. I like hearing from you all. I'm still busy with the same tank as I reported on, on 27/09/2007. The average consumption is standing at 4.9l/100km. The mileage is now at 41600km and all is going well so far. The car is scheduled for a service with Helderberg Toyota on 12/11/2007.
I also received the Terrapass for flying I ordered on 22/09/2007. This means that when I travel in December my portion of the planes' CO2 emissions will be offset elsewhere. The "pass" comes in a funky bright green plastic tag that you can attach to your luggage to proudly proclaim your greenness to all.
For those of you who own a Prius or is just interested in hybrid technology, why not join Priuschat. Look out for me "Albertus".
Thursday 27 September 2007
I filled up the car with fuel before departing for work this morning and I decided to see how low I could get the fuel consumption. It was cool out today so I switched off the air conditioner and just opened up the outside air vent. The funny thing with the Prius is that it rewards careful driving with consumption figures like this: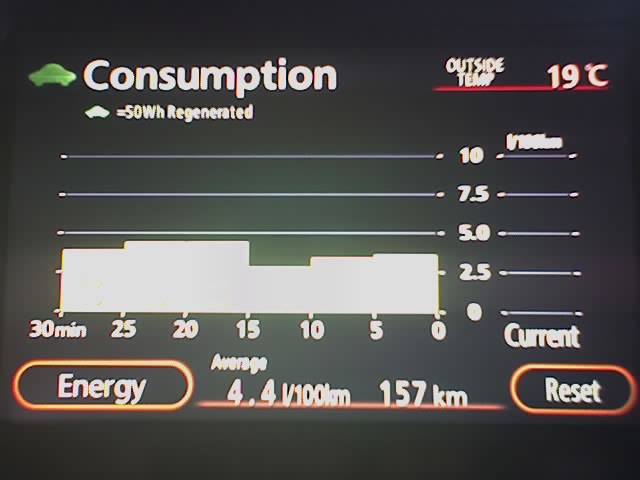 Averaged 4.4l/100km over the last 157km
I managed 4.4l/100km by driving below 100km/h and trying to regen as much as possible. This includes a mix of highway and city driving. I was beginning to think that it can't be done, but it is possible. Driving normally though I usually manage a figure of 5.5l/100km. That's using the air conditioner and driving at about 110km/h. Having the screen and bars is an important motivation to reduce fuel consumption. It almost becomes a game.
Saturday 22 September 2007
Washed the car again. This time though I removed the shiny wheel covers. Just give them a firm tug and they come right off. The amount of dirt underneath was astonishing! The car is on about 40500km and still riding just fine. I'll have to think about making a booking for a service soon. Should be somewhere in November.
I'm flying to London in December and then to Zurich and Dublin to visit some family. Jet travel though emit quite a bit of CO2, so not to seem like the worlds biggest hypocrite, I purchased a Terrapass for air travel. My portion of the CO2 emissions from flying will be offset elsewhere. You get a cute bright green tag to put on your luggage too. Being green is very en vogue in Europe. It should be everywhere...
Saturday 8 September 2007
Gave the Prius a wash and wax. Also blew out the interior with compressed air. The dashboard and air vents can be real dust magnets. All clean now. Coming up to 40000km soon.
Friday 7 September 2007
So far everything is still going fine with my Prius in typical Toyota style. I was checking out the priuschat.com forum and saw a report of a guy who owns a first generation 2002 Prius. Here's the best part, he has done 509 975.364 kilometres and the car still has the original battery!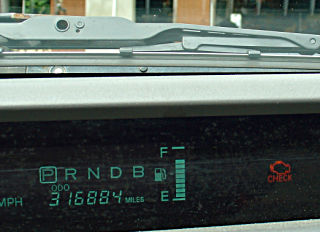 Click on pic for link. The CHECK ENGINE light is on cause the car wasn't in READY mode.
This is not uncommon though. There are current model Prii taxis in Vancouver, Canada which have done very high mileages too.
Friday 3 August 2007
We're in the middle of a minor fuel crisis here due to petroleum industry strike action. Driving a Prius though doesn't help. At 5l/100km the Prius has a 900km range. Similar to what you would get with careful driving in a conventional car. The regular car would have a larger tank and proportionally bigger fuel consumption though.
I would like to go on record by saying that:
On the N2 going to work this morning this was proved again. They change lanes whenever and however they want. Their headlights often don't work and they speed in the rain. The Cape Town traffic department has been clamping down on them, but they can still do more.
Thursday 26 July 2007
My Prius saved my bacon today. I was driving home from work on the highway this afternoon in some of the worst weather the Western Cape has seen for a while. Torrential rain, flooded roads and icy temperatures. I always slow down in the wet, but I still managed to hit an invisible water puddle at about 95km/h! I felt the car lose traction, but the Vehicle Stability Control (VSC) system light started flashing almost immediately and the beep sounded. I could feel the system braking the wheels and control the engine power. I was able to change lanes safely and stay on track. Thank you Toyota!
I can honestly say that the Prius can handle water, no problem. I have to admit that driving a half electric car in pouring rain with wet roads makes me just a little nervous, but I can honestly say that I have not had a hint of trouble so far this winter....touch wood.
Tuesday 24 July 2007
The weather is very cold and wet currently. A mole mother therefore decided to have three pups under some laundry in my bathroom! After phoning around I managed to get hold of the nice people at The Helderberg Nature Reserve. They sent out four people to come and rescue the mole mum, because they thought it was a much bigger and much more viscous dune mole. Instead it was just a little garden variety brown mole. Thanks guys!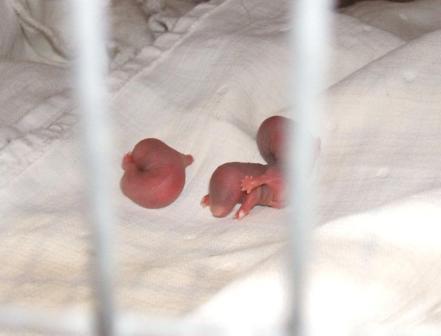 Here are the mole pups
Monday 9 July 2007
I had a nice experience at the local mall today. I came back from shopping. Some people were getting into a car next to my Prius. I got into my car and decided to have some fun. I put her in EV mode and pulled off. This resulted in grins and stares from the people next to me. Really cool. I just waved and wafted off. They seemed amazed at this quiet car. This happens often though. Getting into my car a while back, I also reversed out of a parking space in EV mode. The man in the car next to me craned his neck staring back at me with a kinda "What the F#ck!" look on his face.
People expect to hear you starting the engine as well as the idling. Of course there is nothing like that. The Prius has it's own cacophony of noises that you can listen to though. When going down a hill, and pressing the brakes, the car will start to regen. If you listen carefully you can hear the high pitched whine of the inverter. There's also other whines, whirrs and clicks. When you "start" the car you can hear the relays switching behind you. There is also a pump somewhere in the dashboard that occasionally chirps in to make vacuum for the brakes. None of these noises are intrusive though. I only hear them cause I listen out for them.
Sunday 8 July 2007
Everything still keeps going right. It's a Toyota so no surprise here. For the record, here is my current ODO:

35851km
Went to visit my mom. I filled up the Prius after I left my moms' house. I also reset the consumption meter every time I refill. As I drove into the filling station the "Add Fuel" warning appeared on the Multi-Function display. I put in 41.75 litres of petrol. Given that the Prius has a 45 litre tank, I can confirm that the "Add Fuel" warning is displayed when the tank still has 3.25 litres left. Here's the result of my trip from my moms' house in Durbanville to Somerset-West along the N2: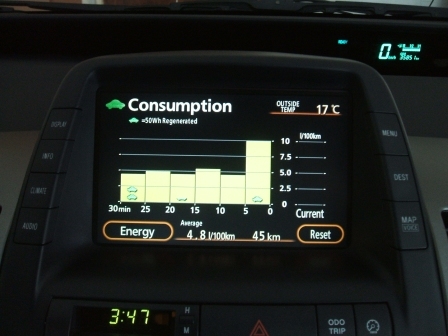 Click on picture for BIG view!
You can see from the last bar that I live at the top of a hill. The engine revs quite high when going up a hill and instantaneous consumption can jump to over 20l/100km, but that's only for a few seconds. While driving home I saw another silver Prius going into the local mall. I just had to take a closer look. Teehee...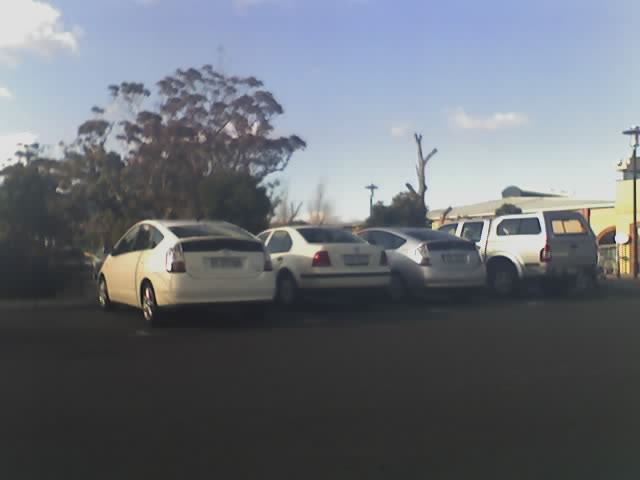 Shame about the Jetta in the middle though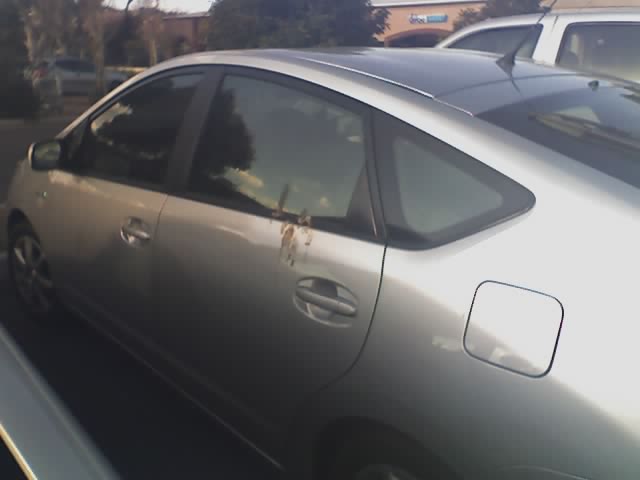 Sigh. Some people just don't deserve nice things. Wash your car dude! Do you have any idea what birdshit does to paint!
Tuesday 12 June 2007
For the record, here is my current ODO:

34224km
I had the pleasure of showing two UK tourists around the Cape during the last week and as such I did a lot of driving. The weather did not quite play along, with heavy showers and slippery road conditions. The Prius however took it in its' stride.
Collecting my two new friends from the airport was a pleasure. The car has a massive boot that just swallowed all the luggage. The unusual design and interior lights (it was night time) elicited a few interested comments. Being British/European they have a far greater respect and understanding for what this car is doing for the environment.
Speaking of environment, The Cape Times has a headline today "Radical new energy law for Western Cape on the cards". Local government are in the process of developing new laws that will kick-start the greater use of renewable energy in the Western Cape.
" It may even see the introduction of a mechanism that pays residents who produce their own renewable energy, to feed
this energy back into the national grid" - Cape Times Tuesday, June 12 2007
This last quote is of particular interest as it would allow one to install solar panels on the roof of your house. Any excess energy you generate can then be fed back into the national grid. Such a system is called grid-connect solar and essentially uses the national grid as a giant storage battery.
All this wet weather made the Prius quite dirty and I'll wash her first chance I get.
Friday 1 June 2007
They say no news is good news. It's true here as well. I've had my Prius now for just under a month and everything is fine. The car is treating me well. I have now become comfortable with all the controls and things are becoming second nature. I had to use the NAV system today. Because I don't use it much I still find it a bit fiddly, but I'll learn. Fuel consumption is steady at about 5.1l/100km. Most of this is highway driving at about 110 -120 km/h.
Saturday 12 May 2007
Drove to Paarl via Stellenbosch and managed to get a 4.9 l/100km consumption figure. Toyota Paarl filled in my service book, and also gave me a printout of the cars service history. Also went to the mall for a bit of shopping. There was this beautiful Ferrari parked outside. I just had to park next to it and take a picture or two. Very cool. I had to take the pictures from an odd angle cause the sun was at a bad position. You can see my Prius right next to the Ferrari. The best of Italian and Japanese engineering right next to each other. Awesome! By the way, I think I need a new cellphone. The camera in the Motorola RAZR V3 could be better...
Tuesday 9 May 2007
According to the onboard computer, my average consumption is 5.3 l/100km. This is combined city/highway and maintaining about 100-110 km/h on the highway. Not too shabby I think. I finally managed to get comfortable. It took much adjusting of seat and steering wheel, but I think I got it now. I put C-Thru on the windshield. The rainy season is upon us and I want to be prepared. Due to the sharp slant of the windshield, the C-thru should help the rain just blow right off. Then I don't need the wipers as much. I'm not getting around to taking an exterior picture of my new ride. It's coming, don't worry.
Monday 8 May 2007
First morning commute to work. Heavy mist. Traffic crawling along. I'm having a nice time looking at the Energy Screen. I'm running on all electric most of the time while crawling through the traffic. Getting some curious looks. There aren't many Prii on the roads here. People don't seem to know what they are.
Sunday 6 May 2007
For the record, here is my current ODO:

Saturday 5 May 2007
Checked out the manual to see what the proper tyre pressure is. Anyway, the tyre pressure was way too low so I hauled out the compressor. Perfect now. Gave her a wash as well and cleaned the seats with leather wipes. Took my housemate for a spin. I actually encountered another Prius at a STOP street! Very cool. There's quite a few here in Somerset-West/Strand, probably because we have many Europeans living here.
I noticed the cars service booklet was blank. I queried this with McCarthy. They informed me that they record services on computer against the VIN number. I still want the booklet stamped though as it may affect resale value. The offered to collect the booklet from me and stamp it. Next service due at 45 000 km. I also noticed that the crankcase was slightly overfilled. I do not like this. I'll insist that this not happen again at future servicing. Some Japanese engineer put those fill marks on the dipstick for a reason. I also plan to provide my own oil, properly measured, for the next service. I want to switch to Mobil 1.
Got my car today! McCarthy Toyota Paarl were kind enough to deliver the Prius to my place of work. I just had to give the driver a lift back to Paarl. This was something I was happy to do, as it gave me a chance to drive my new toy. For some reason the Multi-Function Display was in Finnish or Swedish when I got it. I managed to set it back to English by digging through the menus a bit. I thoroughly enjoyed driving my Prius from Paarl to Somerset-West via Stellenbosch. Beautiful scenery, cool car. I spent the rest of the day and the evening making some MP3 discs for the Prius' JBL sound system. It sounds fantastic! Here's some screen shots. The cars MP3 player shows the files with all the artist names and track titles. I'm encoding my music at 320kbps for maximum quality. Even at that rate, I can still fit 4-5 discs on one 700MB CDR.
Friday 27 April 2007
The weather is really grey, wet and stormy. Winter is here with a vengeance. Drove to Paarl to sign some documents. The salesman gave me a very nice emergency kit to put in my new car. It's got everything a traveller in a pickle needs. If all goes well I should have the car by end of next week. If it wasn't for all these pesky public holidays we've been having it would have been sooner. Oh well. Watcha gonna do?
Wednesday 25 April 2007
Paid the deposit on the White 2006 Prius. yipee!!
I test drove a 2006 Prius this afternoon at McCarthy Toyota in Paarl. It's their demo vehicle and it has 31 000km on the odo. The car is a brilliant white. Quite nice in my opinion. I think I'll buy her. The car is going for R50 000 below the price for a new one. Not too bad. I think the new Prius is waay overpriced in this country.
Last week I test drove a blue 2005 model. This Prius had some scratches on the door, cloth upholstery and no nav. It also had 60 000km on the odo. I never liked blue cars.
I'm glad I finally found a Prius. I still have to wait for the white 2006 to be prepared. It has to be serviced, given a valet and have a small ding on the bumper fixed.