30 April 2010
Saw two other GenII Prius today. A black one and a blue one. Low mileage generation III Prius are also going for very good prices on Automark. I said before and I'll say it again that I think the 2010 Prius is waaay overpriced. Look below. A NEW Advanced model Prius is R330 000 odd rand and an Exclusive R370 000. After only 15000km the sale price has dropped by R40000 - R60000! It's definitely a good idea to do what I did and buy a used Prius. I can honestly say that a Prius with even 30000km (like when I bought mine) is still very new. I see Helderberg Toyota (row two column two) is selling their Exclusive Package 2010 demo for R70000 below sticker! WOW.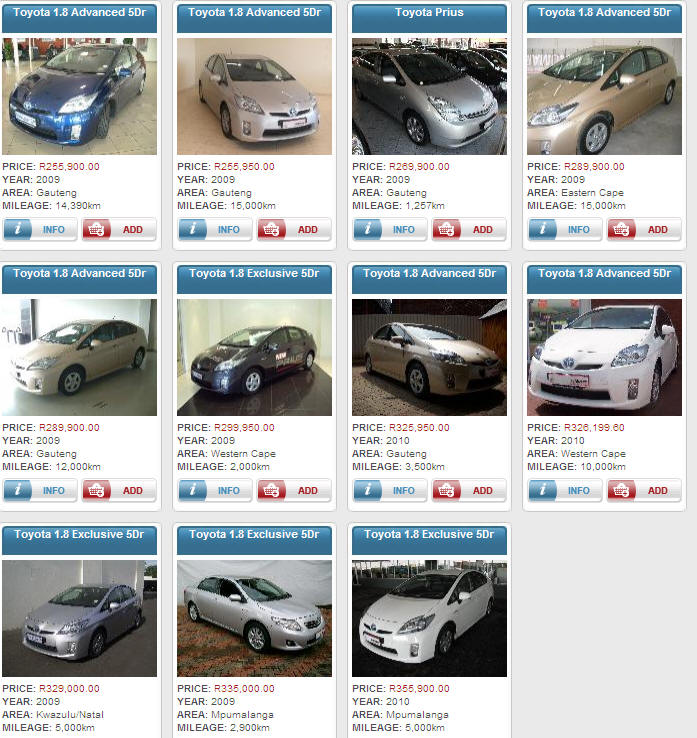 26 April 2010
I have prevented the emission of 5.4 tons of CO2 in the time I've owned my Prius when compared to my previous car. Driven the same distance (~71000km) my previous car would have used 5893 litres of petrol and my Prius 3550 litres. A saving of 2343 litres which equates to:
5.4 tons of CO2
13 April 2010
I must say that Honda are doing some very nice things styling wise.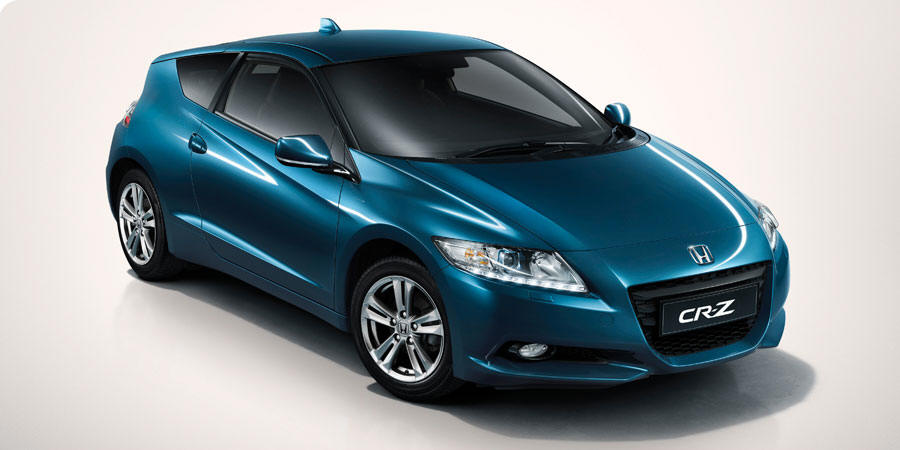 The Honda CR-Z Hybrid is gorgeous! Combined fuel consumption is quoted as 5l/100km or less. I love the interior.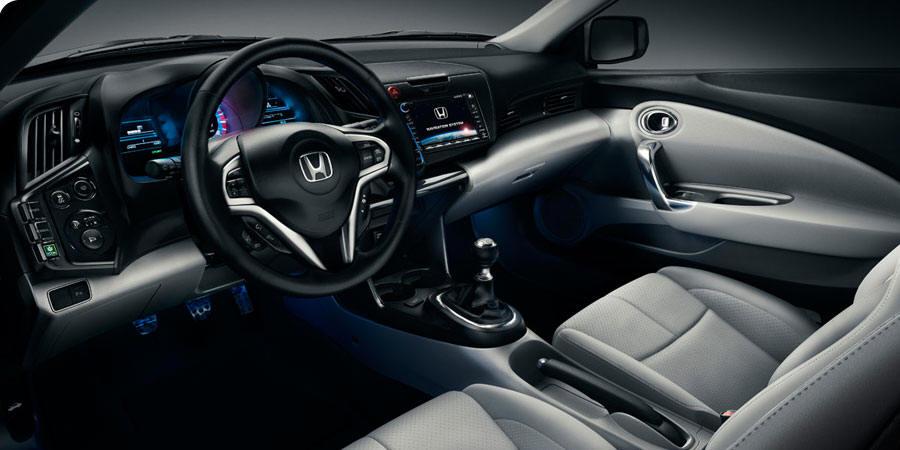 12 April 2010
My cars' odometer rolled over to 100 000km today

Just before the big moment. Service due at 105 000km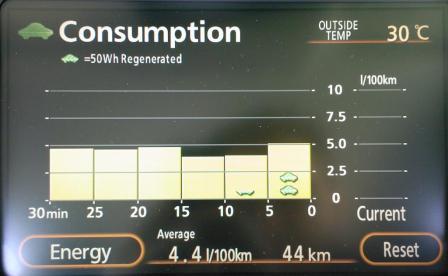 The result of my morning commute. It was hot again today.
11 April 2010
UK built Hybrid Auris due to go on sale in UK in July 2010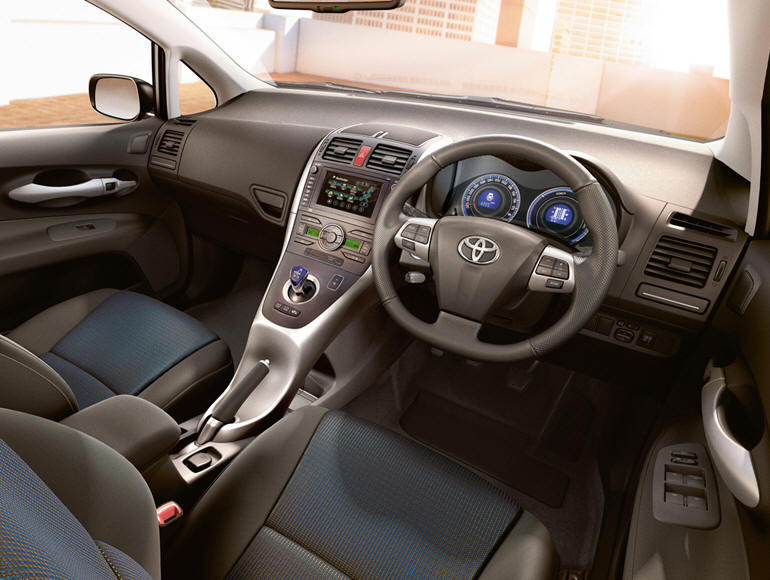 The interior is far nicer than I anticipated. The Auris Hybrid is bound to be cheaper than the VERY pricey Prius. Consumption is quoted as being just under 4l/100km. Price wise it'll have to slot in below the 2010 Prius (R320 000) but above the Honda Insight (due here soon). My guess would be R290 000.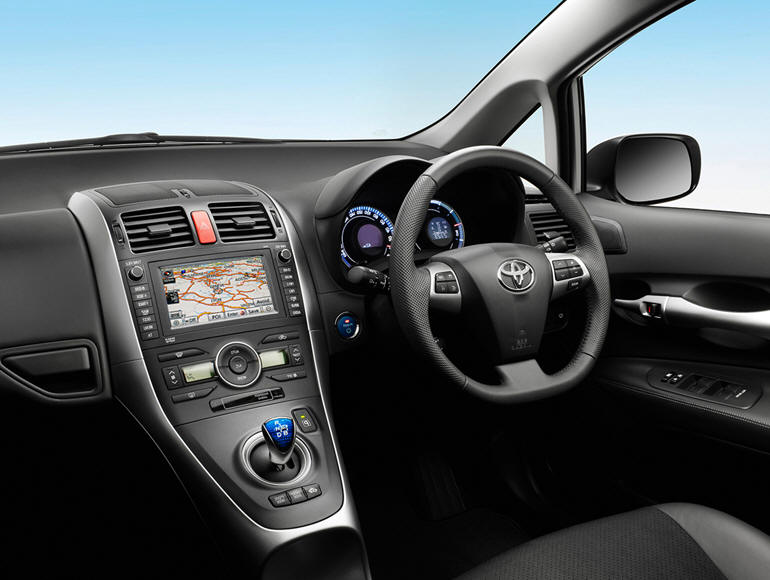 The dials are a nice touch ala-Honda. I wonder if the SAT-NAV is standard. I hope it comes to SA also.
6 April 2010
I won the best paper award at the Domestic Use of Energy Conference
for my paper DEMAND SIDE MANAGEMENT OF THE STANDBY POWER CONSUMED BY TELEVISION SETS.
29 March 2010
My visit to the Solar Hot Water project in Khayelitsha
I'm attending the Domestic Use of Energy Conference at CPUT and as part of the conference we visited the Kuyasa project in Khayelitsha.
27 March 2010
Earth Hour
For Earth Hour I switched off all the outside lights of my house for an hour. Didn't look as if the neighbours did anything. Though largely a symbolic gesture, many people still consider it a waste of time. Nothing that raises awareness of climate change is ever a waste of time. Looking at the photos, many of these landmarks look fine with the lights off. Keep them off and think of the power we'll save....
16 March 2010
Toyota: Sikes "intentionally misused" brakes to overheat them
It turns out that there was nothing wrong with the Prius in this case. The driver is another matter...
14 March 2010
Runaway Prius very likely to be a hoax
It turns out that a closer scrutiny of the available evidence and a background check on the driver makes everyone believe now that the runaway Prius incident in California this week was a hoax. The media is very quick to report on such cases, because it's exciting, but how many are real and not just driver error? Audi suffered a similar fate in the mid 80's when its' 5000 series sedan was also recalled with supposedly faulty accelerator pedals. The problem was eventually determined to be driver error, but Audi was also flamed by the media. People are just too quick to blame the car....
Washed the Prius today.
9 March 2010
Runaway Prius Owner Says He Was Told Car Wasn't Recalled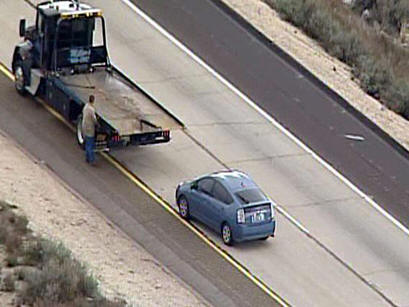 Click on picture for story
OK, I'll admit this story makes me nervous, especially since I thought the 2006 model wasn't affected. The only recall of my model Prius was for a floor mat that could get jammed under the accelerator. This story doesn't mention what happened exactly.
UPDATE: Word on the forums is that not all is as it appears....
Another UPDATE 13/03/2010 : Did Bankrupt Runaway Prius Driver Fake "Unintended Acceleration?"
8 March 2010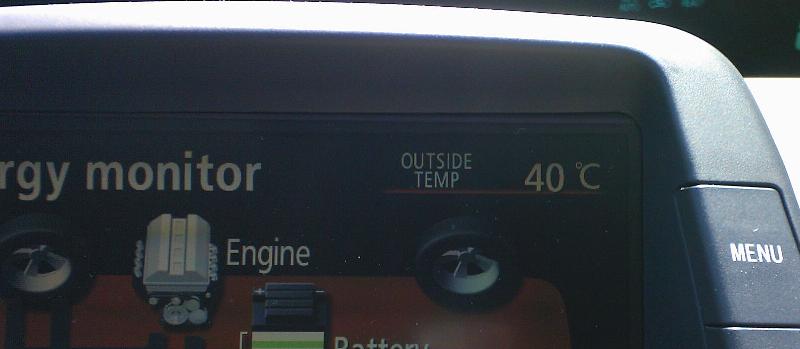 Today 2:42 PM, Cape Town
7 March 2010
It's still just HOT. I'm pretty much glued to the air conditioner. I wonder how many other people are doing the same thing, running their arcons for more and longer. Word is that ESKOM will have their work cut out for them keeping up with electricity demand from next year. Apparently supplies will be tight while we wait for more power stations to be built. I'm mulling getting a diesel generator or even some kind of solar setup, either for hot water, electricity or both. We might be in for load shedding....again. Only the availability of money will tell how I can protect myself from load shedding.
Fortunately it's cooling down on Tuesday, shoe!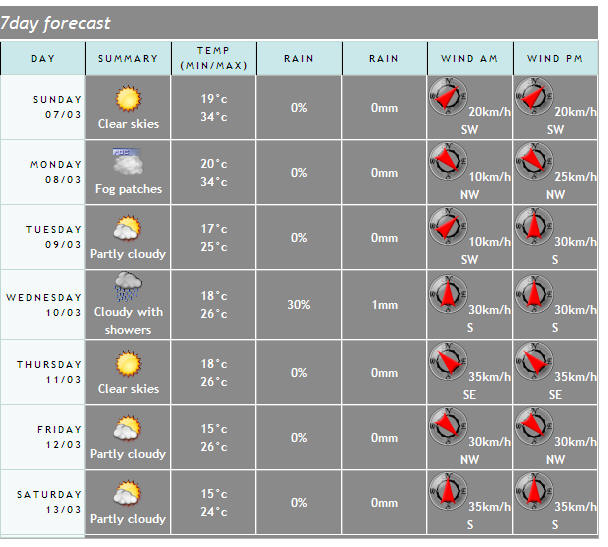 5 March 2010
South Africa's' own electric car, the Joule is currently on display at the International Motor Show in Geneva. This model has been refined and the new pictures are certainly stunning. The interior is gorgeous. I honestly don't think this car will sell well in SA simply because South Africans can get a petrol car with no range limitation and better performance for the same price. Our cars are severely overpriced so we have to get the maximum bang for our bucks. Even the Prius sold here only in small numbers. However, as oil becomes more expensive we will have to consider alternatives whether we like them or not. I think the Joule is awesome, but I think the Joule will be exported mostly. I hope Optimal Energy has done their homework thoroughly and I hope with all my heart this car is a huge success.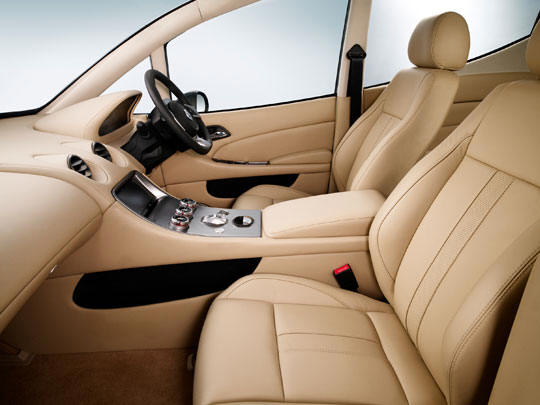 Joule interior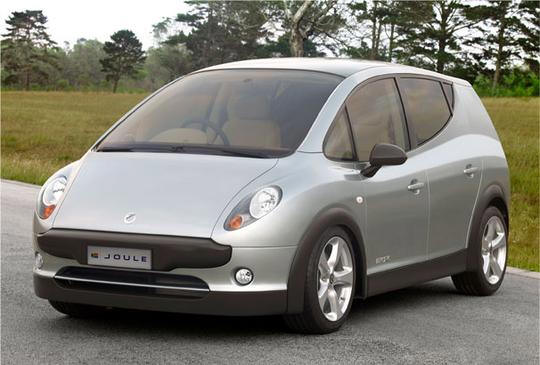 Range 300km
Lithium Ion Battery
Top speed is 135km/h
1 March 2010
February is finally history, but it doesn't look like it's gonna cool down quite yet. Sigh. Fuel consumption has been higher than usual (5.5l/100km) mostly due to the increased aircon use. Common Winter!! Whoo Whoo Whoo. The Auriga Leader was in Cape Town Harbour last week! They even talked about this unusual ship on 567 Cape Talk. I wasn't able to get a photo from De Waal drive. There was no place to stop safely. I wonder if they dropped off fresh Prius?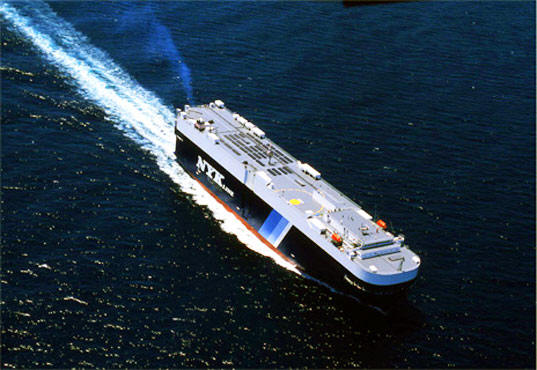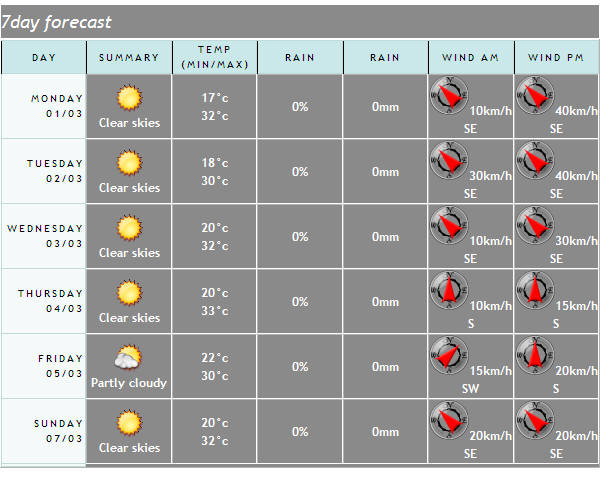 22 February 2010
Washed the Prius.
19 February 2010
No CO2 tax on Prius
The finance minister this week announced that all new vehicles that emit more than 120g/km of CO2 will be taxed as from 1 September 2010. Vehicles will be taxed R75/g that the vehicle is over 120g/km. Finally, people who drive ridiculously enormous fuel guzzling SUVs will have to pay for the privilege. Fortunately the Prius will incur no such tax as the Prius emits less than 120g/km of CO2. To give you an idea, a car with a fuel consumption of 8.1l/100km emits about 193g/km of CO2.
Also, the price of petrol will be going up due to a new 25c/litre tax as well as oil and R/$ fluctuations. Again, no real problem for Prius drivers.
I have been seeing more Prii on the roads lately. I'll be compiling a list of cars that emit less than 120g/km of CO2 and post it on this site.
UPDATE: Had a page through CAR magazine, there is only one car currently for sale in SA that emits less than 120g/km of CO2 and that's the PRIUS.
9 February 2010
2010 Prius Recalled
The 2010 Prius recall is only a software update.
8 February 2010
Tyre repaired at Tiger Wheel and Tyre at Somerset Mall. No hassles, cost R60. One of the staff was curious about my car and asked me questions. It happens often. People are curious about hybrids. I also got a nice complement. A petrol attendant thought my car was new and was surprised to hear that I've had it for almost three years. I look after my baby....
7 February 2010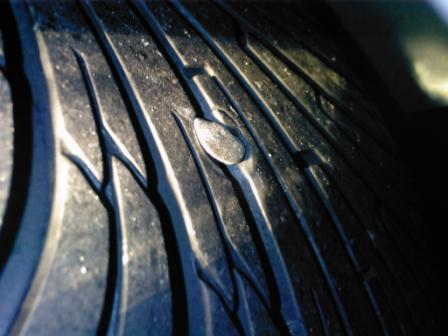 Discovered a great big F#$&ing screw piercing my cars' left rear tyre. Must have it fixed in the morning. I could tell one of the tires were low as the fuel consumption wasn't what I expect. Where do these things come from!?
6 February 2010
Washed my car, applied Wax-it-Wet and fixed the stone chip (as best I could).
| | |
| --- | --- |
| BEFORE | AFTER |
5 February 2010
Recalls and spotting Prius
There's a big hoo ha being made over the recall of many of Toyotas vehicles over sticky accelerator pedals. Suffice it to say that I still trust Toyota vehicles and will continue to do so. There is perhaps a degree of over reaction and media sensationalism happening. Sticky accelerator pedals make for exciting headlines. I cannot help but think that if the fault was a faulty cabin light switch it wouldn't have been such a big thing. In other news, I've started spotting 2010 Prii on the roads. Saw two this past week.
"Toyota has pinpointed the issue that could, on rare occasions, cause accelerator pedals in recalled vehicles to stick in a partially open position. The issue involves a friction device in the pedal designed to provide the proper "feel" by adding resistance and making the pedal steady and stable.
The device includes a shoe that rubs against an adjoining surface during normal pedal operation. Due to the materials used, wear and environmental conditions, these surfaces may, over time, begin to stick and release instead of operating smoothly. In some cases, friction could increase to a point that the pedal is slow to return to the idle position or, in rare cases, the pedal sticks, leaving the throttle partially open.
Toyota's solution for current owners is both effective and simple. A precision-cut steel reinforcement bar will be installed into the assembly that will reduce the surface tension between the friction shoe and the adjoining surface. With this reinforcement in place, the excess friction that can cause the pedal to stick is eliminated. The company has confirmed the effectiveness of the newly reinforced pedals through rigorous testing on pedal assemblies that had previously shown a tendency to stick."
The simple fix involves addition of a small steel bar. That's it.
Toyota did admit though to an issue with the 2010 Prius brakes. This problem has been detected early and corrected. 2003-2009 model is not affected.
"Toyota Motor Corp. spokeswoman Ririko Takeuchi said Thursday that Toyota discovered there were design problems with the antilock brake system and corrected them for Prius models sold since late January, including those being shipped overseas."
30 January 2010
Not all cars are hybrids...Not all cars are hybrids...must remember
I made an ass of myself at the garage when I was filling the other household car. After refilling I switched on the ignition to position two to check the odometer and reset it. I then proceeded to put the car in D and got all confused when I pressed down on the accelerator and the car wouldn't move. Put it in P, put it in drive....nothing. Then I remembered that I didn't start the engine. In other news I've put touch-up paint on the stone chip from 26/01. Now I'm waiting one week for the paint to cure, Then I'm going to flatten the little bulges and polish.
26 January 2010
My car got smacked by a stone!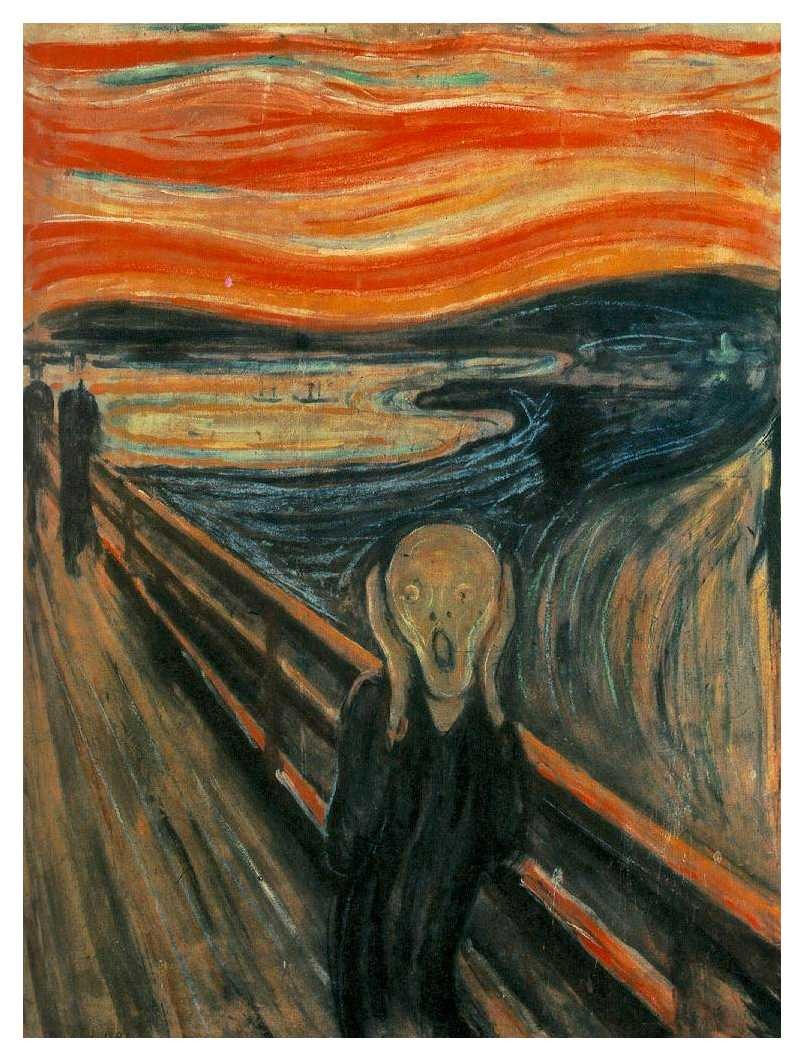 My initial reaction....
Now there's a stone chip on the left front fender. I'm gonna have some touch-up paint mixed and try to make it disappear. Every time I edit this page now that DAMN dog (below) creeps me out.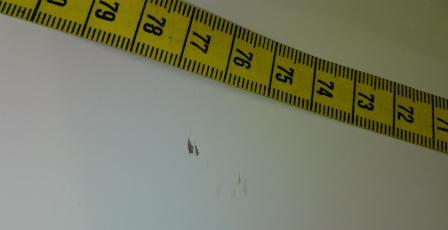 21 January 2010
New Toyota ad campaign is creepy.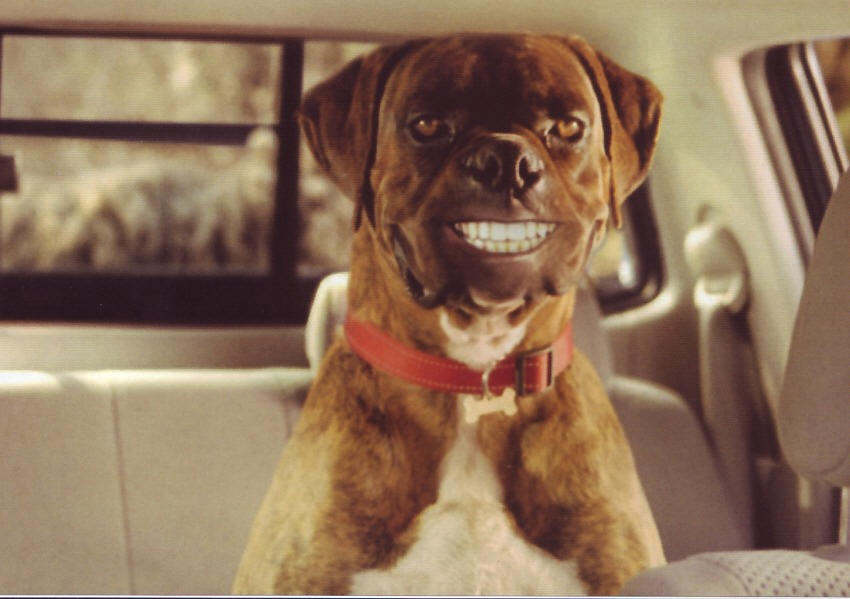 The human mouth on the dog is just creepy. They could have sprung for better CGI and made the dogs actual lips move, like you see in the movies. Another option could have been to do a narrative with a voice-over of what the dog is thinking. Just CREEPY! It's cute, but looks fake.
1 January 2010
Forest fires in the Overberg coloured the sunset blood red. My camera isn't very sensitive in the red part of the spectrum. Believe me it was RED.

30 December 2009
Collected a Swiss friend from the airport. She greeted my Prius with a comment of: "Nice car!". Also saw one other Prius. Also spotted the Google Prius.

25 December 2009
Yes, I know its' Christmas day but I washed my car. It was very dirty, besides I had the energy and I was bored. Tomorrow I might clean the inside too.
22 December 2009
I went and saw Avatar last night in 3D at the Tygervalley centre. The visuals are beautiful, the story engaging and the 3D entirely natural. There's no stuff poking out of the screen at you and after a few minutes you actually forget you're watching a 3D movie and it looks entirely natural. The 3D really pulls you in. I'd recommend it.
The first 3D movie I ever saw was at Ratanga Junction many years ago. It was a short film about a mad scientist or something. It gave me a headache and left me queezy. The second one was an IMAX movie in London. This was better, but I couldn't tilt my head.
The 3D system used for Avatar, RealD, allows one to move your head any way and the image remains clear.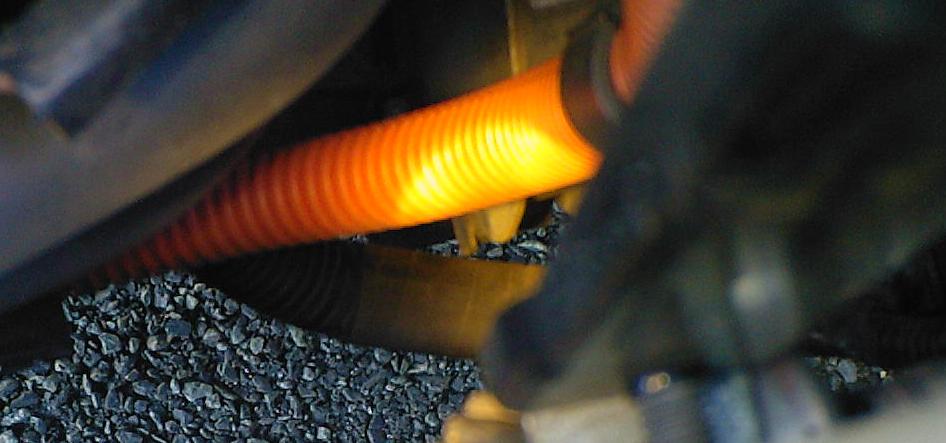 View from the top of the engine. The block-off plate on my Prius is fitted upside down. There is however no evidence that it is touching or chafing the cable. It can be seen from the photo that Toyota has applied extra insulation at the affected area either here or in Japan. There is actually a small gap between the metal tab and the cable. I'll inspect it regularly.
21 December 2009
Starter block-off plate issue. Have your Prius checked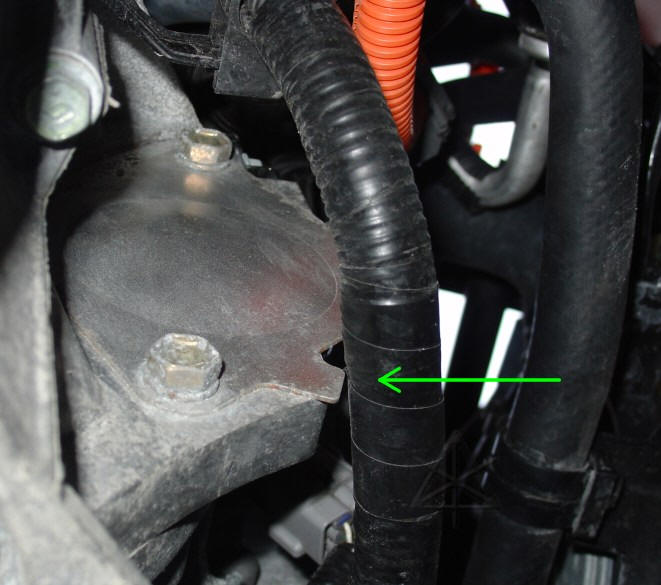 The metal tab that can damage the wiring harness. [techno fandom]
The Prius isn't the only car to use the Toyota NZ Engine. The difference is that the Prius doesn't have a starter motor so the area where the starter motor would normally mount to the engine must be blocked off. One some Prius this plate was installed the wrong way round exposing the wiring harness to a sharp metal tab. Initially it was said that the 2006 and later wasn't affected. I was checking the forums though and a guy busy rebuilding a 2007 noticed that the plate was the wrong way round., I'm going to check this plate on my car. Click on the picture above for more information.
18 December 2009
The insurance company wants to know what my car is worth so I had it checked out at Helderberg Toyota. R169000 for a 2006 Prius with 91000km on the ODO.
It is possible to add an integrated In-Car Entertainment and NAV system to an Advanced spec 2010 Prius. Many aftermarket Head Units plug straight into the Toyota wiring. The bezel is also a standard Toyota part. These Head Units also have the option of adding a reverse camera. So in the end you'll have the same functionality as an Exclusive spec 2010 Prius except for the leather and park-assist.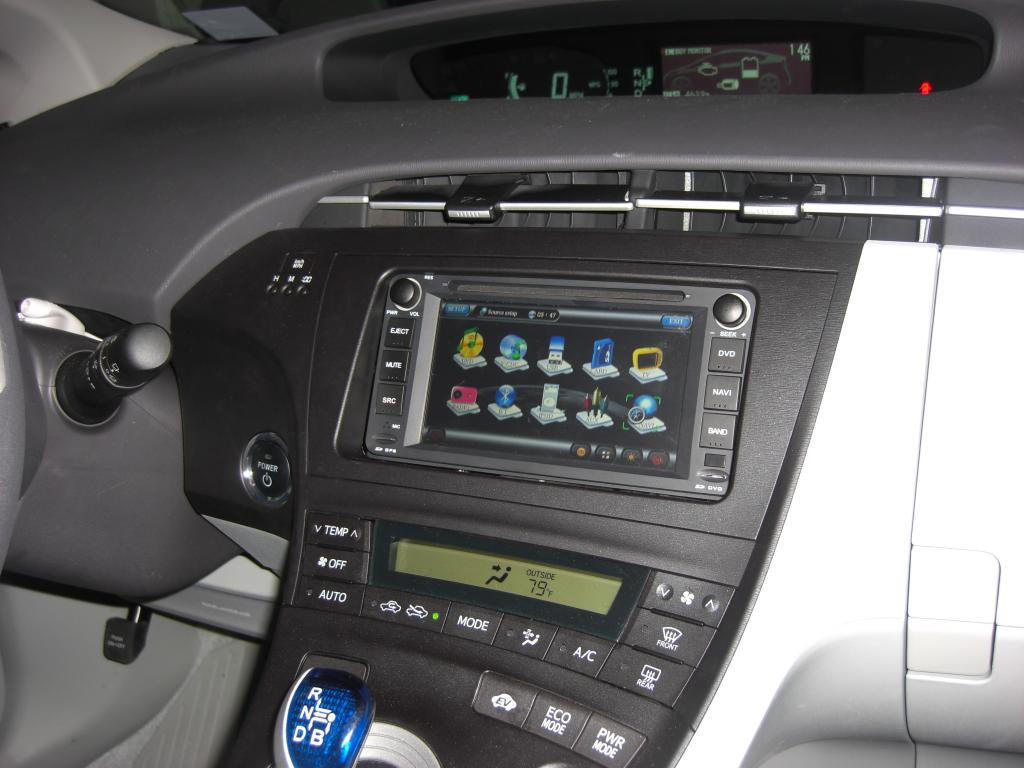 PDF with Installation Instructions
12 December 2009
Dropped by Helderberg Toyota to have a vehicle evaluation form completed for insurance purposes. They didn't have anybody who could look at the car so I have to go back Monday. Nothings wrong with my Prius! The insurance just need to know how much it's worth. There was a very nice 2010 Advanced on the floor. Even if I had the money I'd be loath to replace my 2006 for a 2010. The 2010 Advanced has no NAV or leather and a pretty basic dash...The sales person says they sold 2 so far. One was an Exclusive model which was pre-ordered. I just hope people take good care of them.

11 December 2009
The kitten I rescued almost a year ago is all grown up.
I also drove to Paarl today, to look around. The town was very busy and the traffic pretty hectic. It was very hot, 33C. It was nice to see the old neighbourhood again.
10 December 2009
Prius all over the place!
I saw a total of four Prius today, one of which was the Google Prius.
2 December 2009
The service of my Prius at Barloworld Tygervalley went smoothly. Their service reception area where the cars go is a little bit cramped, but the waiting area is lovely. Got a lift to work. As I left I got a bit annoyed because one of the staff was leaning with his bum on my car. It just takes a metal button on a pair of pants to scratch the paint. They also apply a magnetic number tag to the roof, which is unusual.
Collected the car at about 17:30. It was washed, but there were greasy hand marks on the wheels and the bumper. They could have wiped it off. The passenger seat was pushed all the way forward. Car dealerships must realise that the best way to hand a car back to a customer is in such a way that makes it look like nobody touched it except for some fairies that removed the dirt.
There was a problem with the glove box, but it was sorted out quickly. It did waste some of my time though as I had to go back.
30 November 2009
Booked my Prius in for its 90000km service at Barloworld Toyota in Durbanville on 2/12.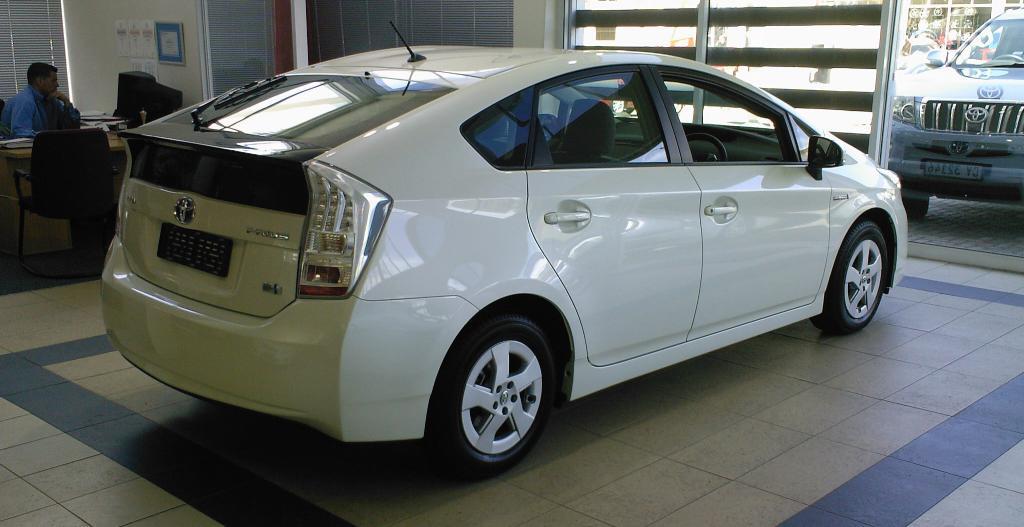 Cute 2010 Prius on the floor at Barloworld Toyota. This one has the cloth upholstery, no NAV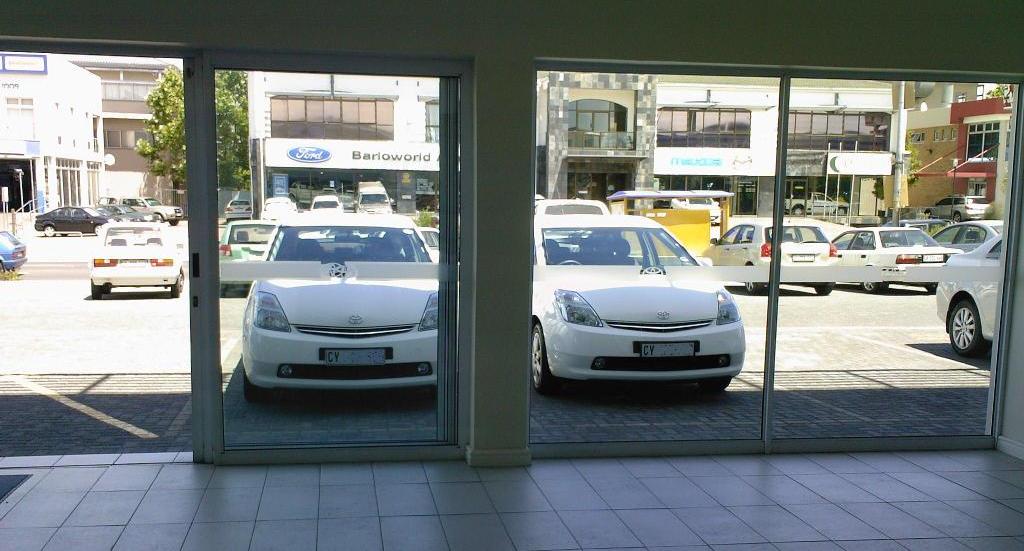 Which is mine?
18 November 2009
The Google Prius drove right past me today and I saw another white Prius on the highway.
16 November 2009
Managed to wash my car on Saturday. It was so dirty I essentially had to was it twice. Waay back before I bought my Prius I test drove a blue 2003 Prius. The guy who owns it must live around here cause I often see it in my neighbourhood. He took off the wheel covers so it looks a bit mean.
13 November 2009
My Prius is 1000km from it's 90 000km service. No problems to report. I hope the weather improves this weekend so that I can finally wash my car. She's filthy!
12 November 2009


Saw two other Prius this morning
4 November 2009




I've seen at least four other Prius the last week. I noticed my fuel consumption getting worse so I checked my tyre pressures. They were all low. Bumped them back up and consumption is where I want it again.
My encounter with the Google Maps Prius
Driving on the N2 this morning I encountered the Google Maps Prius. The camera seemed to be in a stowed position.
26 October 2009
Bright flashes outside my window woke me up at 4:30 am. Somerset West was in the grips of one hectic thunderstorm accompanied by gale force winds. I was going to go to work early, but decided to hold off until the weather calmed down. By 6:00 it was raining too. Later in the afternoon my car got hailed on! Fortunately the hail stones were too small and brittle to do any damage. I've lived in the Western-Cape all my live and the biggest hail I ever encountered was grape sized. Three years ago I encountered a hail storm in my BMW 7 series. This storm was intense with grape sized stones pelting the car hard. Again, no damage. It would seem it takes a sizeable hail stone to damage a car. Freaky weather. Just freaky.
24 October 2009
Washed the car this morning. It was nice and cool, but warmed up quickly after I was done. The Prius was filthy and the bumper so full of bugs that I had to use a brush as opposed to the soft sponge I always use. The new tires are working out just fine. No problems otherwise. This is really a get in and drive car.
19 October 2009


Spotted a Prius at the mall and another one on the highway.
12-16 October 2009



I've seen at least three other Prii this week. Traffic from the city was a pain Friday afternoon due to road works on the N2. I'm glad I don't drive a car that burns fuel when idle. I look around me and just see hundreds of litres of fuel being burnt for what, standing around. What a waste. Even if all cars were mild hybrids and only switched their engines off when idle, how much more fuel would be saved? Mild hybrid technology is very easy to add to vehicles and not even expensive. It's only an oversized alternator/starter combo unit. So why don't we see more of them? Manufacturers like BMW, Volvo, Citroen and Peugeot are making these vehicles with so called auto-off technology that shut the engine off when the car stops.
11 October 2009
Fuel economy doesn't seem to have been dramatically affected by the new tyres. Keep in mind that I have been driving faster than normal due to the improved high speed handling and stability. This tank also includes many short trips raked up during the September/October break.
1 October 2009
Why is it that only when you replace your tyres do you realise how stuffed the old ones were? I was beginning to think I had suspension issues... Anyway, the Nexen/Roadstone N2000 tyres seem to be performing beautifully. There's no vibration and they're also quiet. Steering feel, high speed stability and crosswind immunity has all been improved. The ride is smooth with most of the bumps ironed out. Pressures are 265kPa in front, 255kPa in the rear. I'll check wear patterns and economy to see if these are OK. All in all I'm a satisfied customer. Mileage now is 85762 km.
Prius recalled over floor mat
In the US many Toyota models, including the Prius, are being recalled over reports that the drivers floor mat can cause the accelerator pedal to jam. I actually had this happen to me once. I failed to clip the carpet onto its' retainer clip and the carpet jammed the accelerator pedal all the way down. It was my fault and I certainly don't blame Toyota. Perhaps you should remove the mat to be sure or ask your local Toyota dealer. I'm just going to make sure my carpet is clipped in properly. My car is due for her 90000km service in about 2 months and I'm sure Toyota will check then. Article at Priuschat.
30 September 2009
Hunting for tyres
My Prius currently have Bridgestone Turanza 195/55/16 ER30s and they're raw. So I went looking for tyres today and found a good deal on Roadstone N2000 205/50/16. Roadstone is a brand of Nexen, a Korean brand. Four tires at R3600 fitted and balanced. I needed something good at a reasonable price. I trust the Koreans can make a decent tyre. Having them fitted tomorrow morning. They're slightly wider than what is on there now, but that should improve road-holding. They have a pretty tread pattern...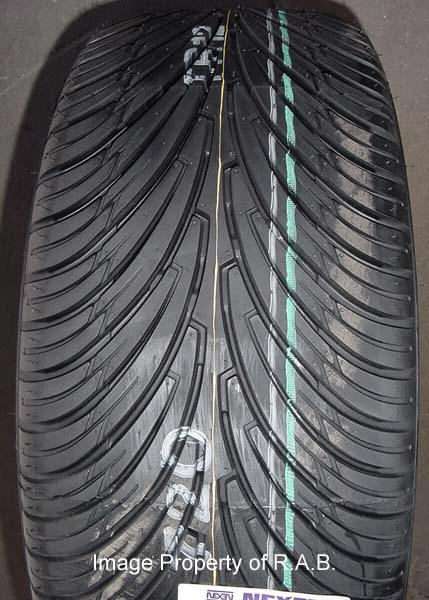 Nexen N2000 tread pattern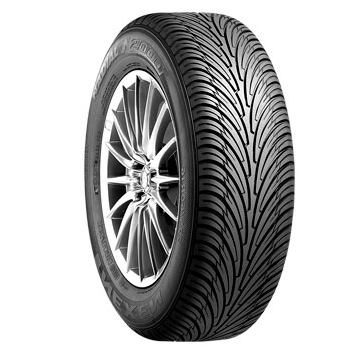 Do we always consider how much energy goes into building and transporting the goods we use? Prius are built in Japan. To distribute them across the world, Toyota rely on freight ships. These ships use copious amounts of diesel fuel which ads to the carbon footprint of the goods they transport. Toyota however is using a freighter with 40 kW of solar panels to reduce the load on its' engines and hence fuel consumption. The Auriga Leader is just such a freighter used to transport Prius between Japan and North America. Launched in Kobe, Japan, last December, the 60000 ton ship is 200m long (two rugby fields) and can carry 6200 vehicles.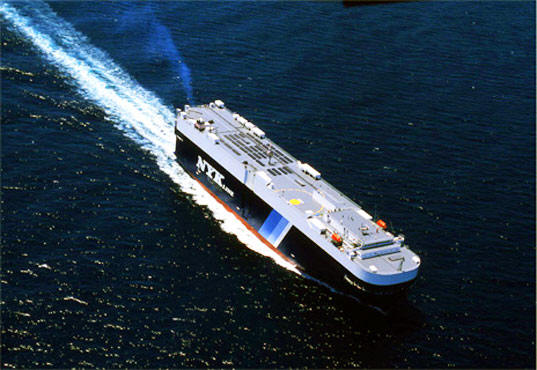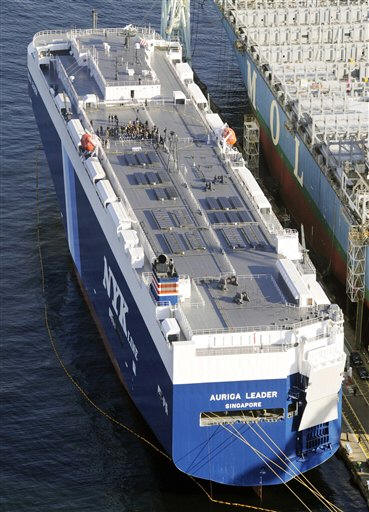 Solar panels on the deck of the Auriga Leader
There's only about 800 Generation II Prius in South Africa.
According to Toyota Zone Magazine September/October 2009:
"Since launch in 2005 in South Africa, total Prius sales have surpassed 800..."
24 September 2009
I ordered this book. Can't wait to get it. I'm thinking of adding a reverse camera and I need to know where all the clips are and how to remove certain panels.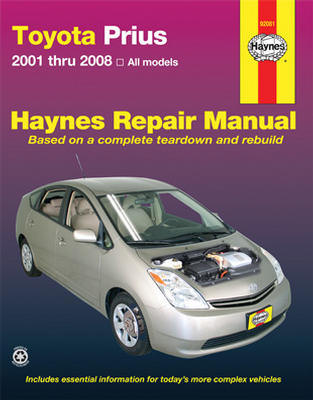 22 September 2009
It occurred to me today that if Toyota should start selling the Hybrid Auris here, I don't think I would be buying one. I get drowzy when I look at an Auris. They're THAT boring styling wise....I'd rather wait for a low mileage 2010 Prius when the time comes to replace my 2006 Prius. The Auris makes my eyes wanna throw up.
Front compares well to the Prius, but the back of the Auris is boring as hell. Prius is the more gorgeous car all round.
I've had another e-mail confirmation that the Honda Insight will be made available in SA next year, but not the Civic Hybrid.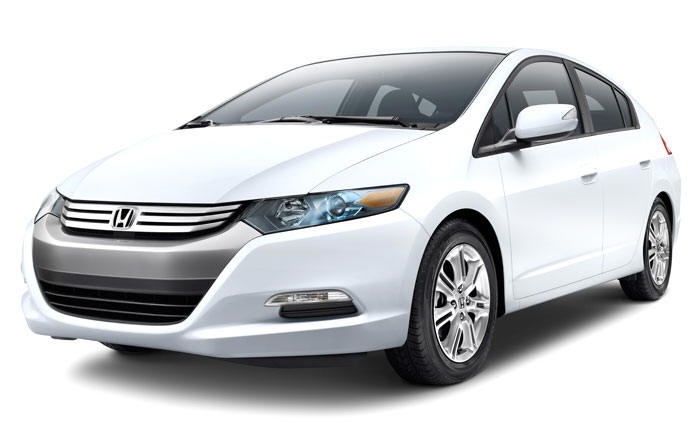 Whoohoo, more hybrid choice for the SA market. Certainly more attractive than the Auris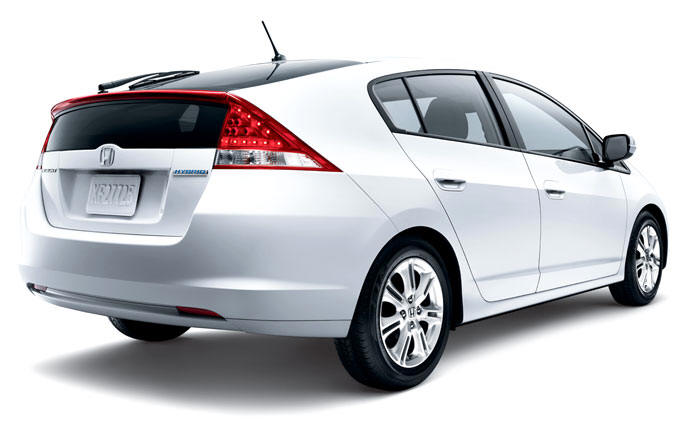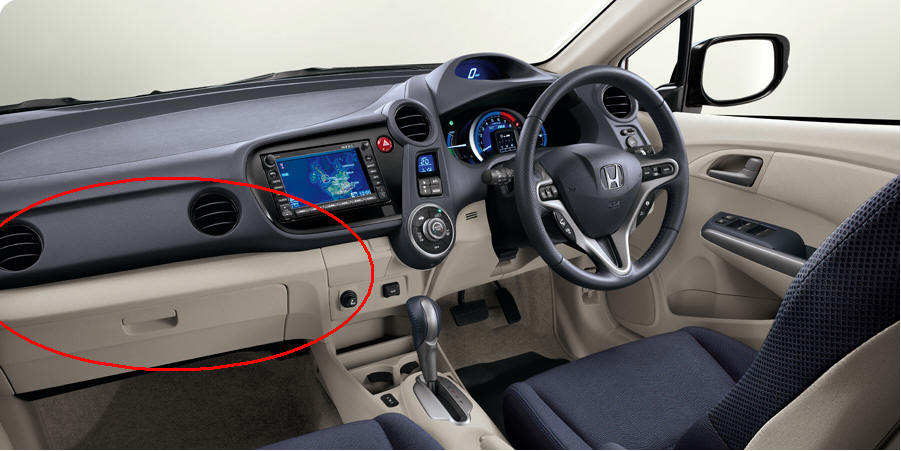 Hate this part. Very plastic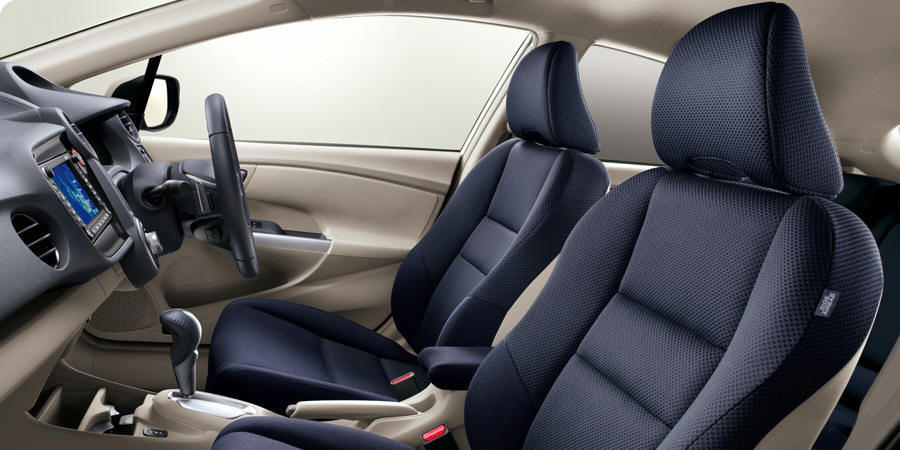 Love the seats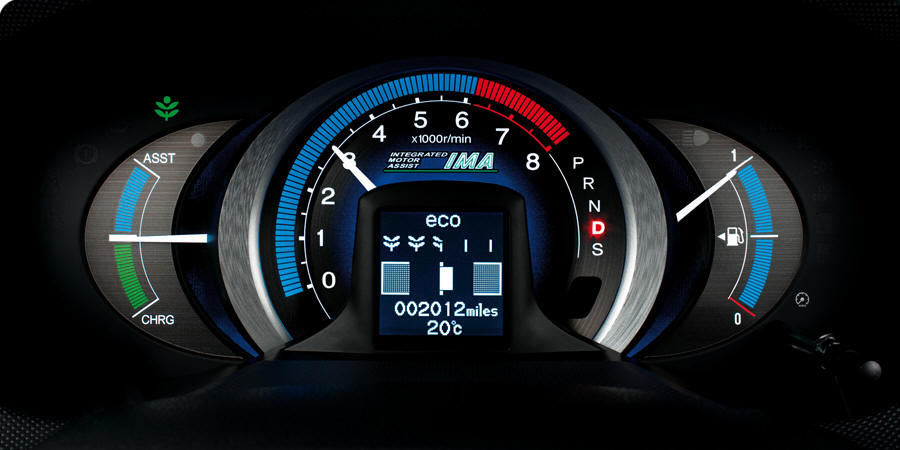 Love the Instruments.
I'm gonna try to guess the price in SA. Let's try the scientific approach.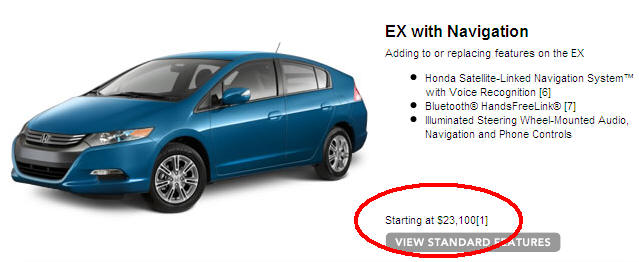 We know the price in the USA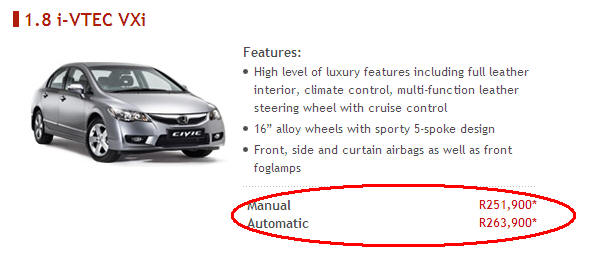 Fully kitted out Civic in USA = $23000
Same car here is R263900
so if $23000 in USA equates to R263900 here
then Insight could sell here for R270000 odd? Which means that if Toyota wants to compete locally they would have to sell their Auris Hybrid at a similar price point.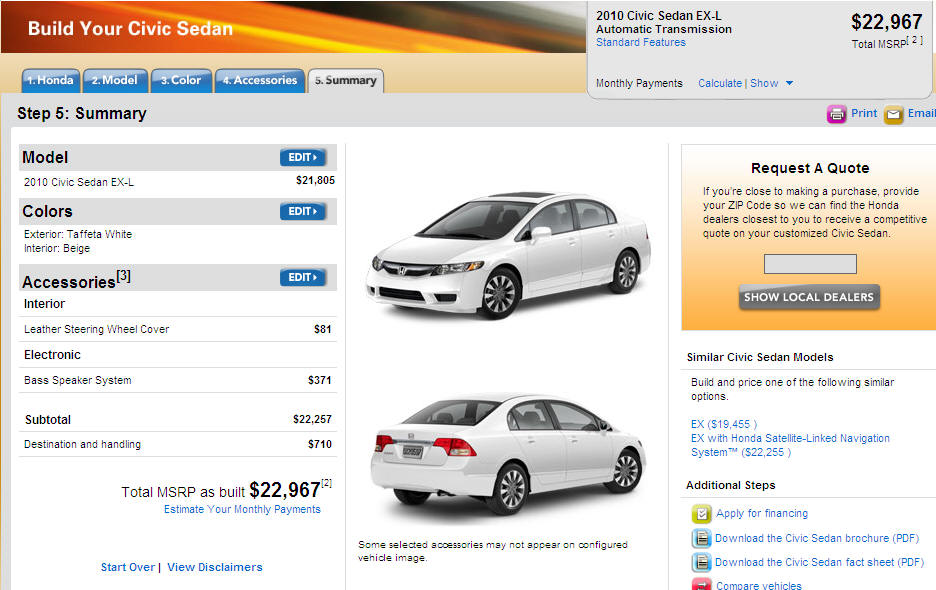 19 September 2009
Washed my car. I applied plenty of polish and wax to the front of the car last time. Consequently the dirt and bugs on the front bumper came off easy this time.
18 September 2009
I test drove a 2010 Prius today!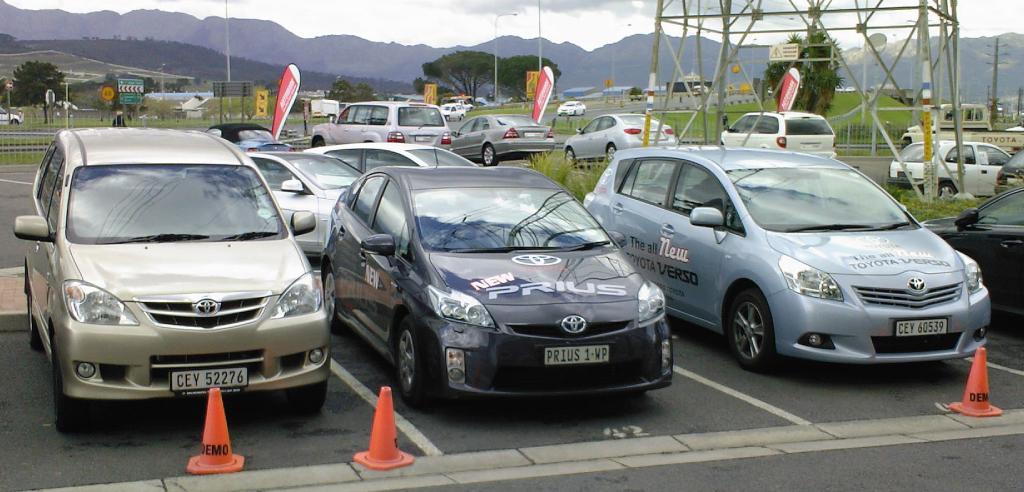 The Prius I drove at Helderberg Toyota
I dropped by Helderberg Toyota today. I saw in the paper that they're having a carnival tomorrow and the ad said: "Come drive the new Prius". I figured that they should then already have a 2010 Prius so I went to have a look. My first impression driving the new Prius was that it felt bigger. The seats are more comfortable. The larger engine isn't obvious performance wise, though it has a more throaty tone. I'm not a fan of the new energy monitor on the cluster. The pixels are huge and the lack of coloured arrows make it hard to see at a glance if energy is flowing into or out of the battery. The Heads-up display is cool, but would probably just irritate me. Fortunately it can be switched off. The stalk for the indicators was also on the opposite side to that of the Gen II Prius so I kept turning on the wipers during my test drive.
| | |
| --- | --- |
| 2010 | 2006 |
Cabin is comfortable with plenty of storage space. The power button is on the left side of the steering wheel and there is not slot for the key. The 2010 Prius uses keyless entry instead. The most fun part was the park assist. Although very cool, I doubt its' everyday utility. I felt somewhat overwhelmed by the plethora of electronic gauges and displays in my field of vision especially with the heads-up display switched on. I didn't quite know where to look. The cluster just seemed very busy somehow with the energy monitor in there as well.

2010 above vs 2006 below

There's so many buttons in the 2010 model. Wow. The 2006 model had very few buttons as most of the features were accessed via the MFD touch screen. The 2010 Prius seems to have a button for everything. On the plus side it means that one don't have to dig in menus for many functions. This is a plus for quick A/C adjustment.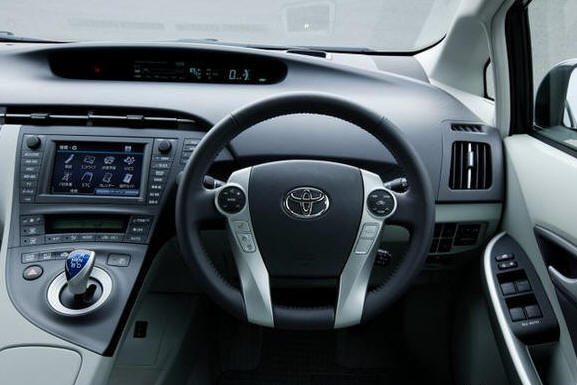 Who's got the most buttons 2010 (above) or 2006 (below)?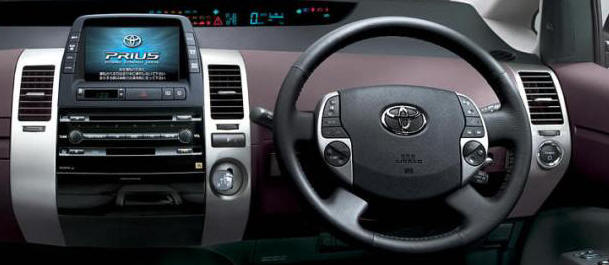 I found this display most useful. A bar moves across to show you what the hybrid system is doing.
Driving feel is very similar to the current model although I would say the suspension seems softer. Steering feel is also more direct and less disconnected from the road. The 2010 Prius is an awesome car and if you can afford one, go for it. Before you do however, read my 12/09/2009 post first....
12 September 2009
Now is a great time to buy a Generation II Prius!
I've always thought that the Prius was overpriced in SA. That is why I purchased a low mileage used Prius in 2007. Now is an especially good time to buy a second generation Prius. With the new model on the way, dealerships would be looking to get their old stock out of the way. This opens up the possibility for some serious haggling, even on new Gen II vehicles. The cheapest new 2010 Generation III will sell for R326 200 which is more than most people would care to spend on a car unless you're in government. For about R249000 you can get a low mileage Generation II with SATNAV, something even the R326000 Gen III doesn't have. Be sure to only purchase a used Prius from within the Toyota dealer network to make sure any service plans and warranties are honoured.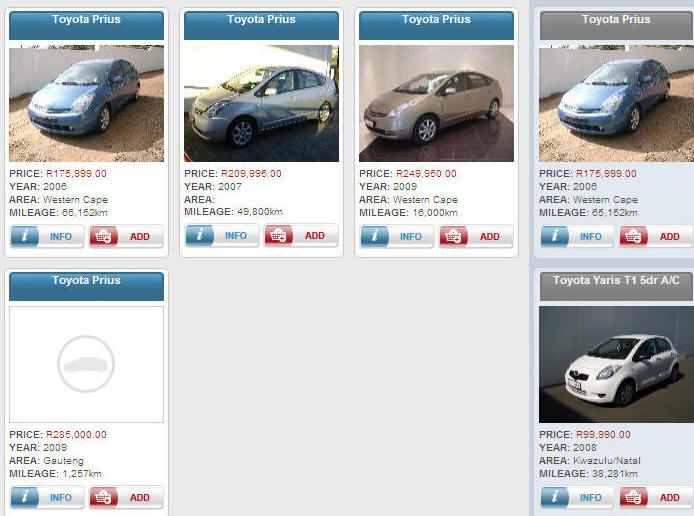 Vehicles listed at Automark.
Hybrid Auris and plugin Prius unveiled
Toyota released more information on the upcoming hybrid Auris which is to be built in the UK. The hybrid Auris will share the drive train of the 2010 Prius.It is sure to be cheaper than the Prius. More information has also been released on the upcoming plugin Prius.
It is interesting that the hybrid Auris' dash is a fusion of Auris, 2010 Prius and the MFD from the current Prius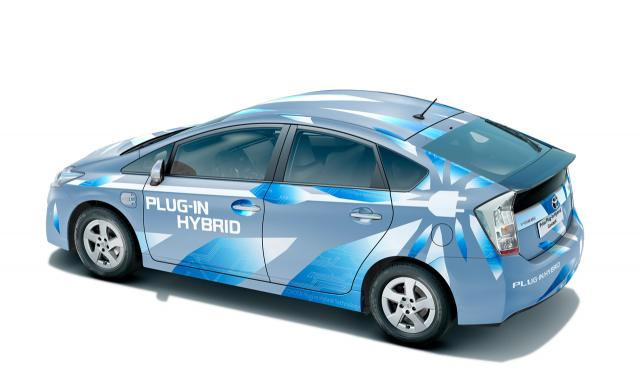 The plugin 2010 Prius
Weather was amazing so I washed the Prius. She was very dirty after all the rain.
10 September 2009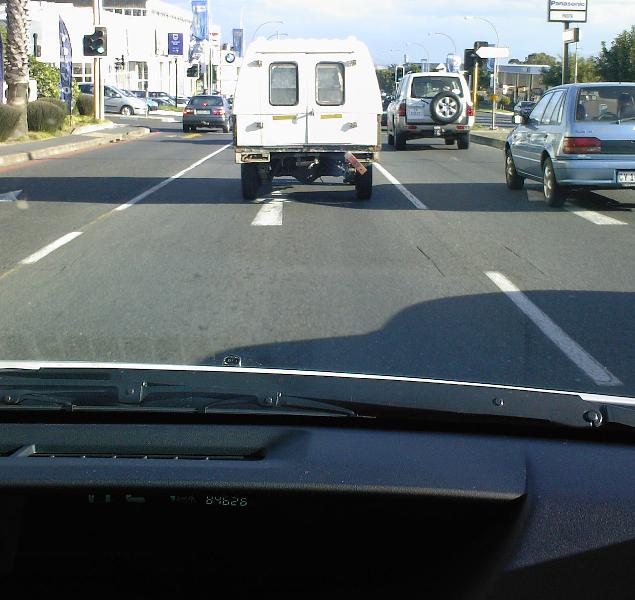 Why are there cars on our roads with no working taillights and no number plates?
7 September 2009

Spotted blue Prius in front of me at robot.
3 September 2009
Wow! Three Prius sightings in one day. A light green one, a white one and a blue one.
2 September 2009
I had such a weird dream. I dreamt I was driving my Prius and the "transmission failure light" came on. It doesn't even have one. I coasted to a stop in front of a shop where my parents happened to be shopping. I picked them up and took the car to Toyota, but there was no one there to help me. I threw a hissy fit and cried and said that the car can't be broken it only has 86000km. I think we stayed in the dealers' hotel. The next morning I went looking for my car, but there were cars everywhere so I started pressing the remote button. I cold hear the car lock and unlock, but couldn't see it. Looked everywhere. I eventually found the car but it was a VW beetle full of hairy hippies! Then I enlisted the help of some car thieves to find a white Prius for me assuming that they would find mine. When I found the car I noticed that the front and back number plates were different. In demanding it get fixed I saw that the rear hatch was new and unpainted. Apparently Toyota installed a new battery and the battery and the hatch is a unit. Apparently Toyota insisted on replacing the battery to be thorough after testing the car. Then I woke up.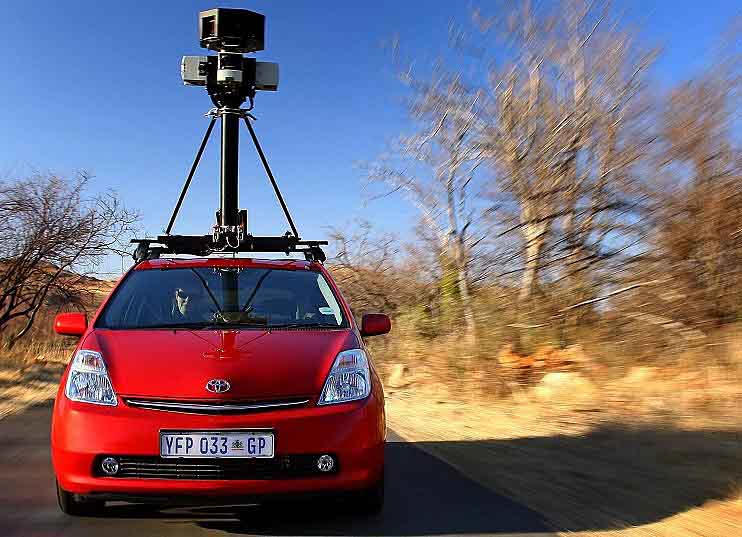 <sing along> When you see the red Prius, you know just what to doooo, duck and cover
Hate it or love it but Google Street View is going to start collecting imagery in South Africa and they're going to use Prius. The cameras will be mounted on the roofs of Prius cars. These will be driven around streets collecting pictures as they go. Internationally many people balked at the idea of their neighbourhoods being made searchable and viewable by anyone. In Switzerland public sentiment was very negative and in places in the UK the car was even pelted with stones. I don't see these cars driving into some of our more savoury neighbourhoods. While I side with the "not crazy about Street View" crowd, I have to admit that it'll be a boon for tourism especially before the World Cup. If I was a tourist visiting a strange city I'd feel much better if I knew exactly where I'm going. So love it or hate it Street View is coming. When you see a Prius with a camera contraption on its' roof either duck or smile. Cheeese!



Saw a blue Prius today...no camera. Yet
1 September 2009
The weather is windy and cold. The wind is so strong in fact that it pushed me around on the highway quite a bit. It also messed with my fuel consumption.
31 August 2009

Drove past white Prius.
30 August 2009
Things seem to still be on track for South Africa's own electric car the Joule from Optimal Energy in Cape Town. Production plans are being made and even pricing has been revealed. The most expensive Joule will be R278 000. Pretty good I'd say considering that it's gonna be helluva cheap to run. Test units should be on the roads in a years time and well be able to buy them by 2012. See article in Die Burger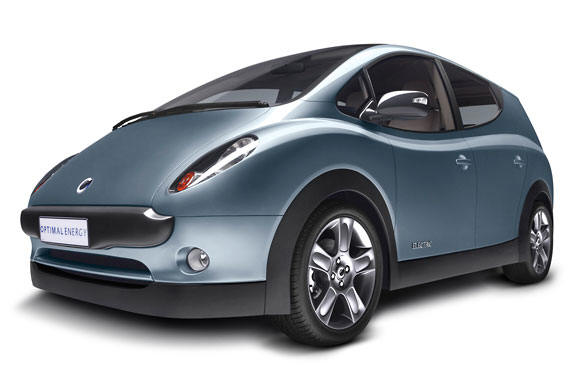 Batteries
Lithium-Ion
Range
200km per battery module

Room for two modules

400km MAX

Top Speed
135km/h
Price
R278000 (executive model)
27 August 2009

My streak of Prius sightings continues. I drove behind a white Prius like mine on the N1 today going up Tygerberg hill. The latest issue of car magazine is a must read if you're into green cars. There's also an article on the new Prius in there.
26 August 2009

A Prius with an "Automark" labelled number plate passed me on the highway. I've now seen another Prius every day for three days. I remember when I just got my car I could go 2 weeks without seeing a single one.
25 August 2009

After finishing classes at CPUT I was pleased to see another Prius in the University parking lot. It was a 2003-2005 model.
24 August 2009

I'm impressed by the low fuel consumption and performance I'm getting with a tank of Engen Dynamic Unleaded. I normally use BP, but I must say my Prius feels more peppy on the Engen. I filled up near work today and driving home I got these figures.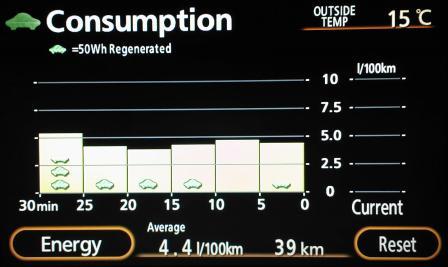 This is with spirited driving. 70-80km/h on R300 followed by cruise control at 105km/h on the N2. Includes some fast lane merges and overtaking. I wasn't trying so this figure surprised me.
21 August 2009
| | |
| --- | --- |
| The new Fisker Karma plugin hybrid supercar. Who else had a smile like that? | |
14-16 August 2009
Spent the weekend updating and tweaking several pages on the website. I also updated the index page to reflect the 2010 Prius. Sunday was a gorgeous sunny day so I washed the Prius.
13 August 2009
My Prius odometer ticked over to 82000km today. 8000km before her next service is due.
12 August 2009
Very cold, wet and miserable weather. Due to strike action from bus and minibus taxi drivers it took me 2 hours and 40 minutes to drive from Somerset West to Cape Town. I was so bored sitting in the traffic that long. Fortunately my Prius didn't just sit and idle like all the other cars around me. Hybrids shut their engines off when they stop.
11 August 2009
It's Here!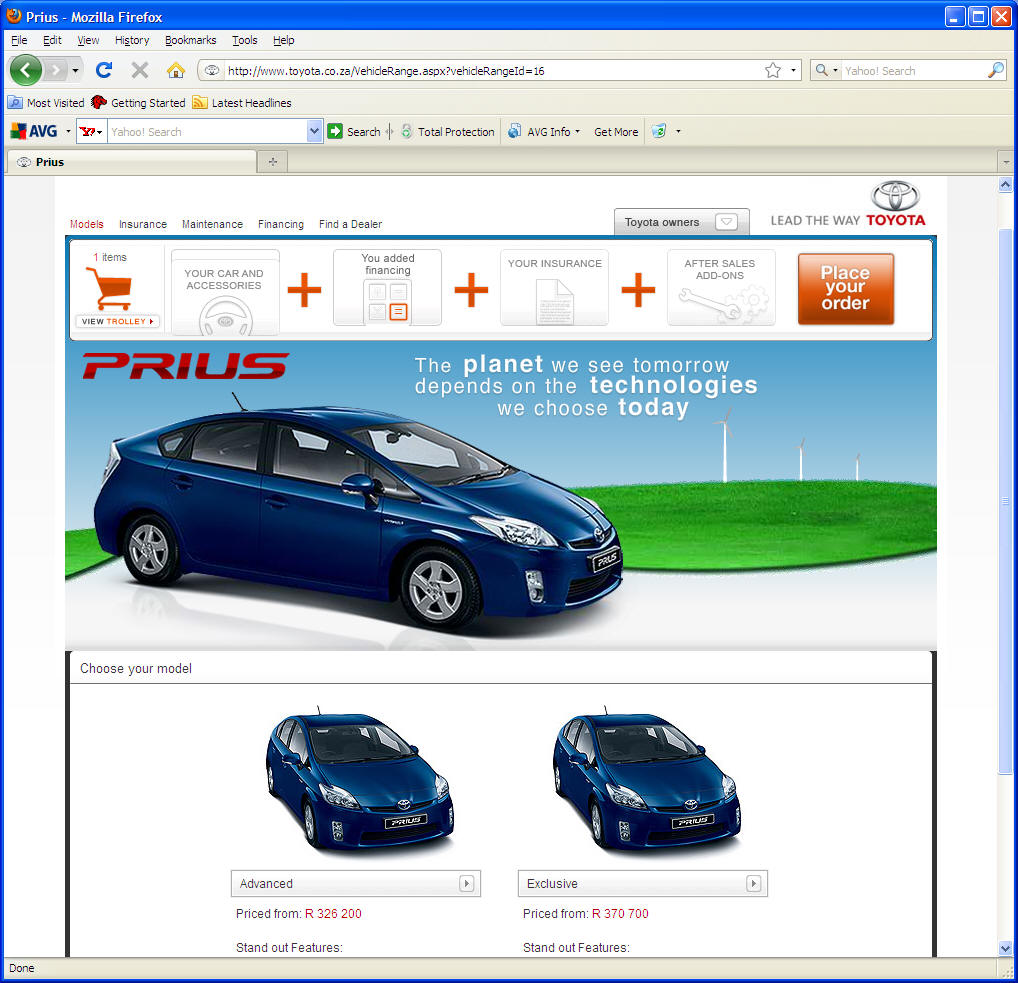 Toyota South Africas' website has been updated with the 2010 Prius. It is interesting that the 2010 Prius will be offered in two variants, Advanced and Exclusive. Prices start at R326 200 for the advanced model which is cheaper than the previous model.
It was nice of Toyota to invite me to the launch...I won't be upgrading anytime soon. New cars are just waaaay too expensive now. I still love my current Prius and will be driving it for a very long time to come.
A man at a convenience store parking lot asked me some questions about my car today. He wanted to know if I've had any problems and what the fuel consumption was. Why do people still seem weary of hybrids? He also asked me whether one must plug it in. This is another indicator of the ignorance of many people have about hybrid vehicles. I was polite and answered his questions gladly.
9 August 2009
Gorgeous sunny day. Washed the Prius.
3D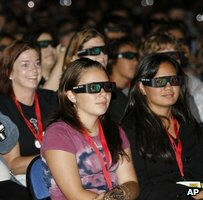 Fail! (lady on the left).
I saw my first ever 3D movie at Ratanga Junction about 10 years ago. It used some sort of horizontal/vertical polarized glasses. The effect was good, but I remember some ghosting and you couldn't really tilt your head. It gave me eye strain. I also saw a 3D movie at an IMAX cinema in London. Similar polarizing scheme. I also couldn't tilt my head. The effect was OK. I don't know why that IMAX didn't use the shutter glasses. Nu-Metro is advertising their 3D movies which use the RealD system. It uses circularly polarized light that allows you to wear simple, clear glasses. The single digital projector uses a device called a Z Screen to modulate the light. The 3D effect is also not messed up by head movement. I still want to see these movies for myself, but there's nothing on the 3D circuit that interests me right now. When sound movies first came out in the 1920s people said: "Who wants to hear actors talk?". Who wants to see actors in 3D? While it could be fun to see some movies in 3D, like sc-fi or action films, I doubt movies like "What women want" or other chick flicks would benefit from the 3D treatment.
Fusion
This is interesting. A method of obtaining fusion at an affordable price without the use of exotic materials or devices. It's called Magnetized Target Fusion or MTF. Essentially many pistons simultaneously pound a sphere that creates a shockwave that compresses nuclear fuel. Fusion is touted to be the solution to all our energy and consequently environmental problems. Fusion creates no dangerous waste and the fuel is abundant. This reactor design is being proposed by a private company called General Fusion.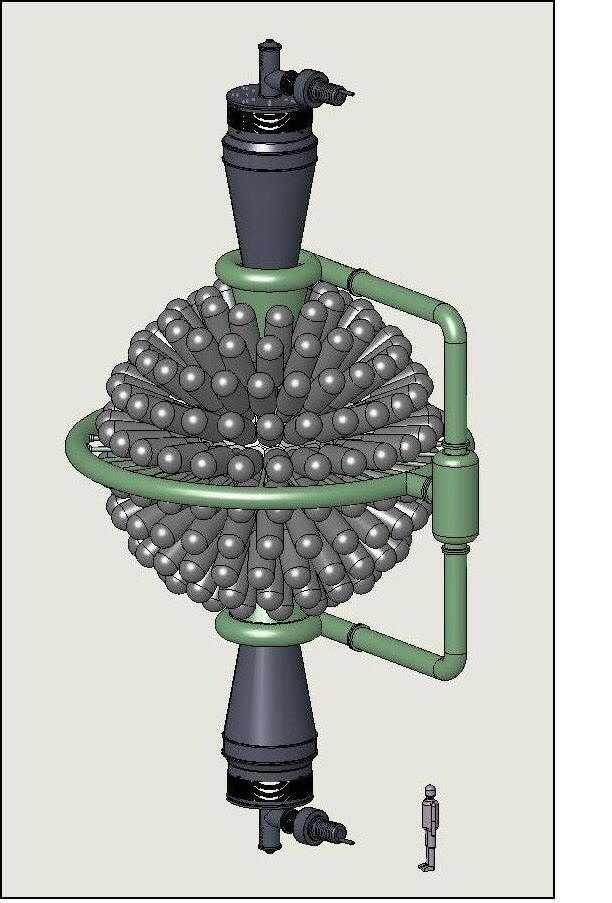 100MW MTF Reactor
Another interesting device is the Fusor. It allows you to essentially create a fusion reaction on your desktop. While not practical as a power generating device it is probably the simplest fusion reactor one can build.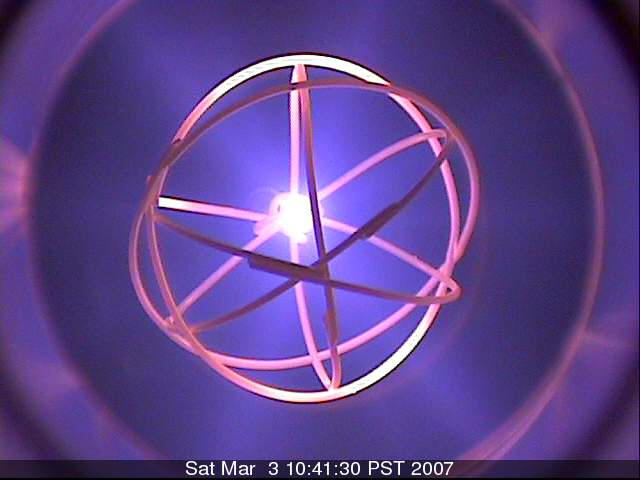 Fusion reaction at the heart of the electrostatic confinement sphere of a Fusor
8 August 2009
Nissan has released details on their new electric car and I must say it looks really good. Thankfully vehicle manufacturers have by now realised that electric cars must look like regular cars if people are going to accept them. They must be practical, comfortable, affordable and offer descent range.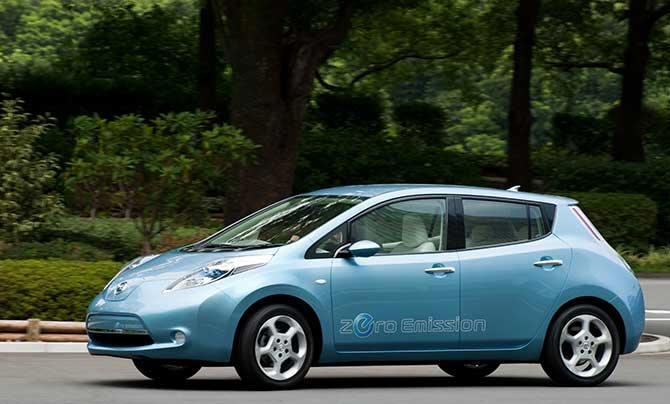 With the LEAF, Nissan joins other Japanese manufacturers in building eco friendly cars. Unlike many electric cars (see below), this one doesn't look like a ridiculous toy, but rather a real, practical and attractive car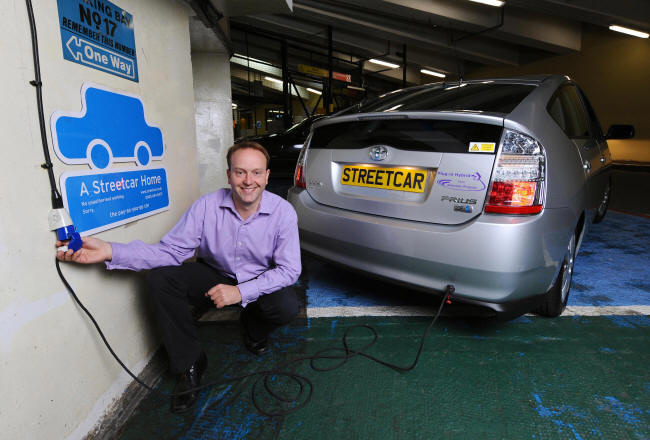 What I really would like to do is plug my Prius in
| | |
| --- | --- |
| Lost the plot | Got the plot |
| No way! | Perhaps not affordable, but droool...The pinup girl of EVs. |
| ROFL. Here comes Noddy, BEEP BEEP. It's Chinese. Bless their hearts. They're trying. | A sure local winner! Designed by an actual car designer and not someone who used to work in a toy factory. |
| Hello Mr Spacely? Would be considered cool in California. A strong South Easter might tip it over. | Ah, yes. Tesla to the rescue. Too expensive still, but getting there. |
| <Hysterical Laughter> The G-Wiz in London. | Almost went on the left...This Electric Smart is acceptable. |
Somebody forgot to remove the anamorphic lens for this shot of the Tango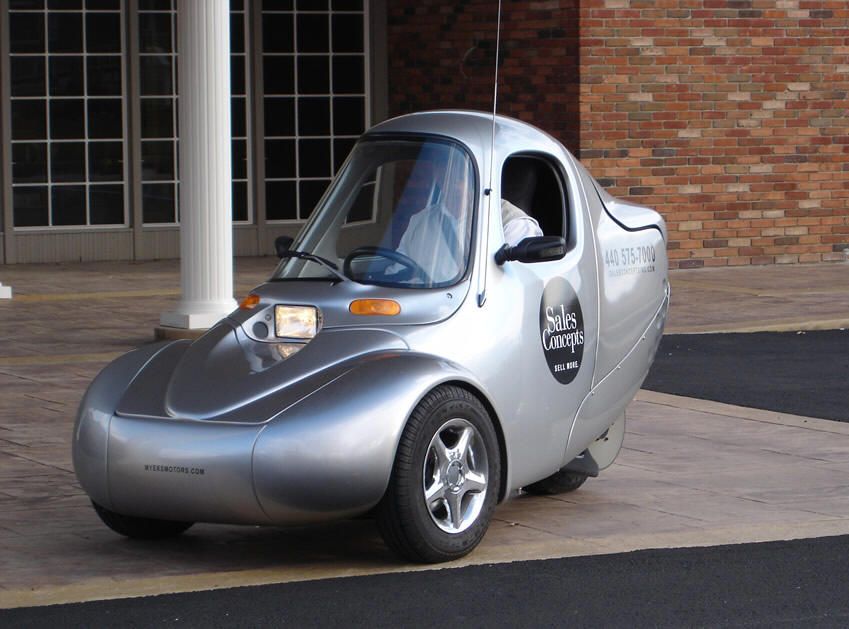 The MyPrius award for ugliest electric car goes to the NmG
7 August 2009
WOW! Holograms you can feel. I shall never cease to be amazed by the creativity and inventiveness of the Japanese. Awesome.
5-6 August 2009

Saw a red Prius on the highway. There are very few red ones....

Drove behind a white one in Durbanville.
4 August 2009
They say it's a small world. The developers of the new look toyota.co.za site are degree students of mine. They're very proud of their hard work and rightly so. One showed me around the site during class and explained some of the things he'd done. Cool!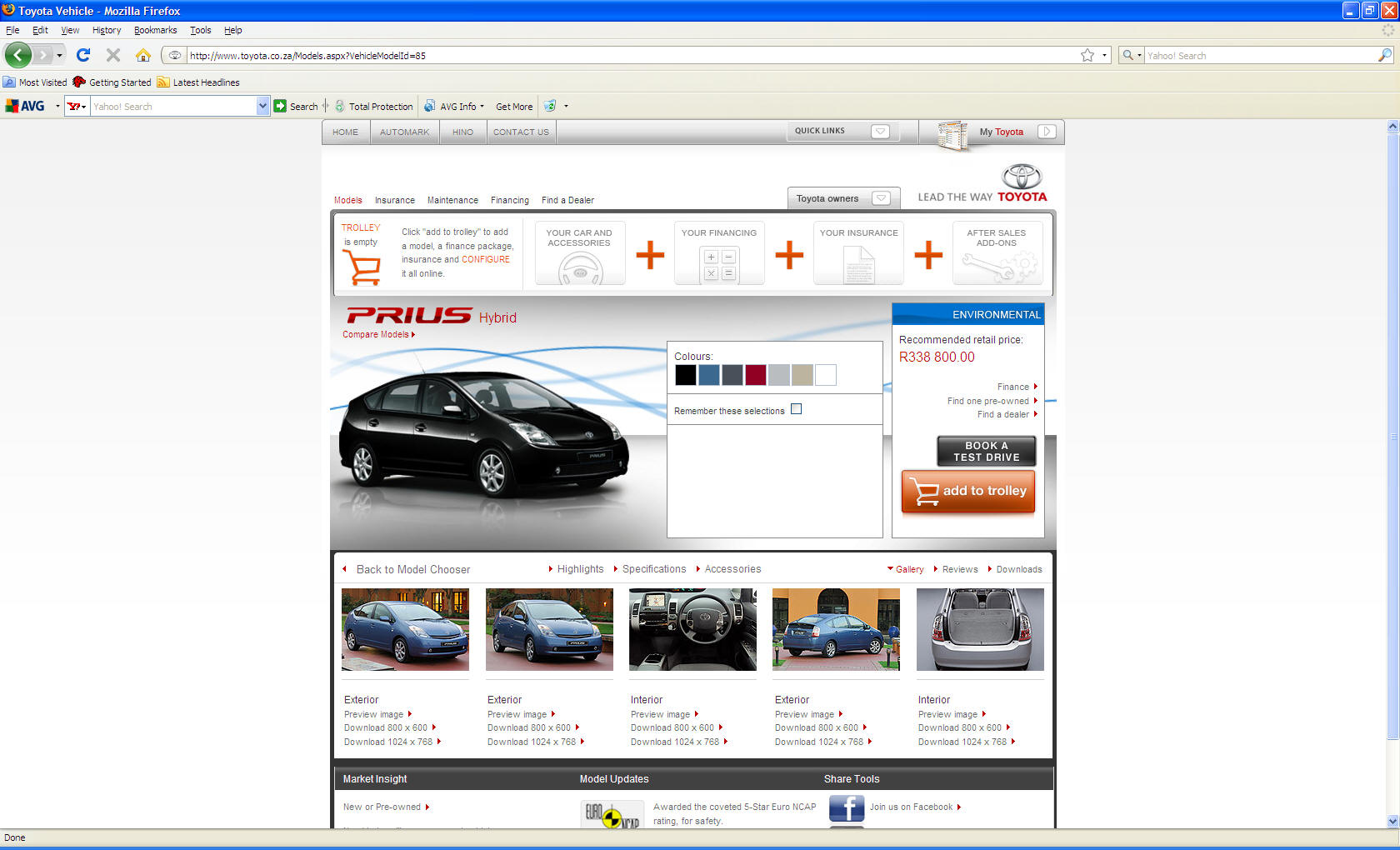 This date is also significant, because it means I've had my Prius for 27 months now. This means I'm halfway with my 54 month instalment sale contract.
2 August 2009

30 July 2009

I arrived at work today and there was another Prius at the gate waiting to enter. Hooray, I though. Someone else at the University drives a Prius too, but alas the driver was turned away by the guard. It would seem it was a visitor or student or whatever who wanted to park in the staff area. Oh well...
28 July 2009
I bought a CD of Duffy Rockferry. She's a brilliant vocalist and her songs are amazing, but unfortunately the CD has been mastered badly. It's LOUD, very loud. This disk gave me listener fatigue quite quickly. It's not like I have a bad Hi-Fi system either. Track 10 is my favourite and its' very much in the Spector "wall of sound" style. If I listen to this disk in my car, the sound is acceptable, but on a quality Hi-Fi system (Sherwood CD player, external DAC etc) you can hear that the dynamic range has been squashed to shit. Sigh...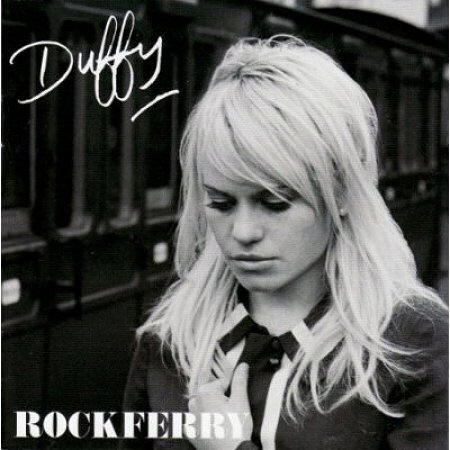 Duffy, ruined by the loudness war
25-26 July 2009
I used the same setup as below but used an RCA 12AU7 this time. I plotted it's characteristics and it seems to be very close to spec. Also, I'm feeling much better and actually managed to get some proper sleep for the first time in 2 days. When you're feeling sick, immerse yourself in something interesting and you'll forget how bad you feel.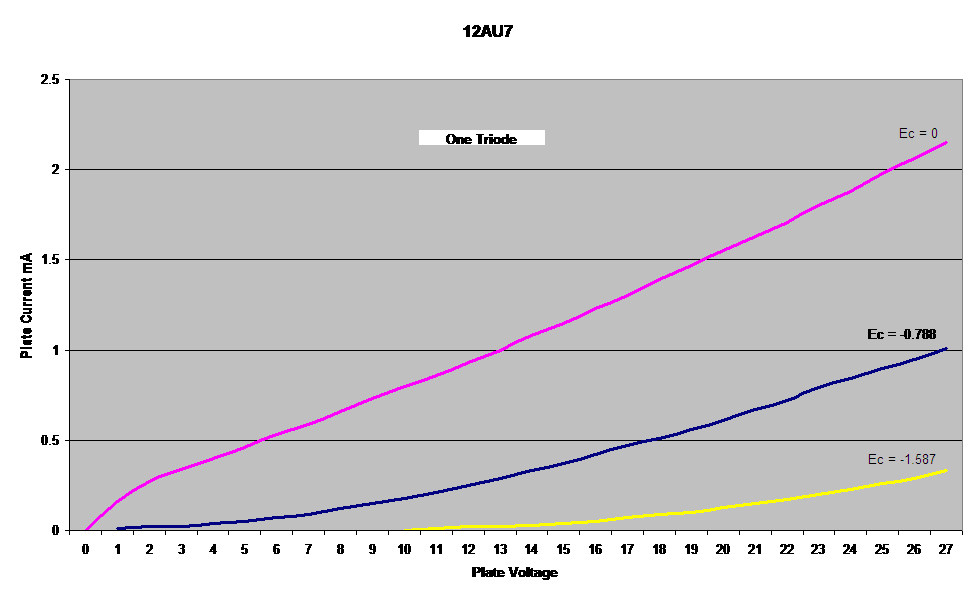 | | |
| --- | --- |
| From left to right is the plate DC power supply, heater supply and grid battery | Some of the tubes I've collected |
| 12AU7 set up as amplifier using one of the two triodes. Ebb = +28V | Input signal at bottom, output at the top. Same voltage scale, 0.5V/div. There clearly is gain. Notice the 180 degree phase shift between input and output. Negative grid bias is at -0.788 V. |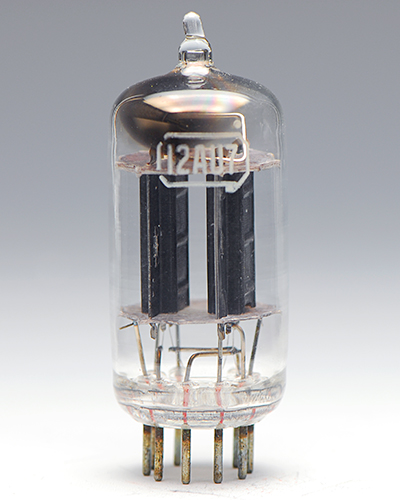 24 July 2009
I have terrible sinusitis and cannot sleep much so I stay busy. I had fun today playing around with a 12AX7A vacuum tube. This was my first time actually setting up and messing around with a tube for myself. I have built a valve amp from a kit before though. The plate voltage is only +30V so the anode current isn't massive. I plotted the tubes' characteristics as well. This tube is a double triode. I wired the two triodes together in parallel. With the grid grounded and the cathode-anode voltage at 27.8V, an anode current of 0.81mA results. This doesn't quite match the data sheet, but a fun time was had by all anyway.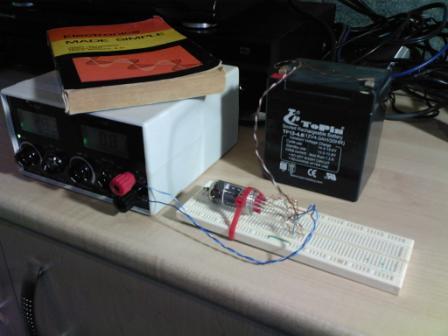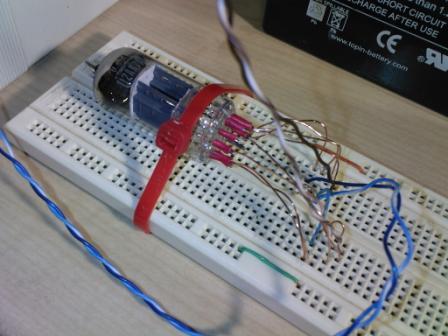 21 July 2009


I realised I stopped putting in the sighting binoculars. My bad. Saw two other Prii today including a white one just like mine. I actually drove behind it coming out of the work parking lot. I'm also in the midst of a good tank at 4.7l/100km. The warmer than usual weather is helping as the cabin requires no heating or cooling so I can disengage the climate control.
20 July 2009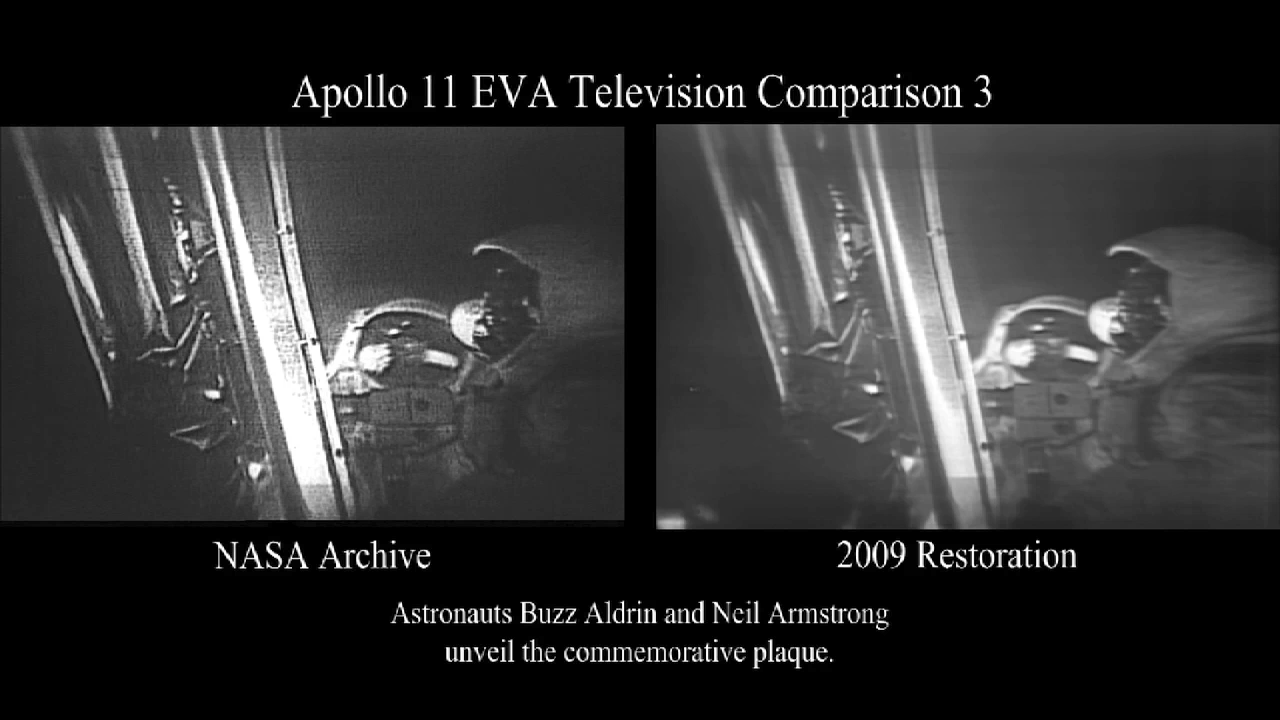 It's been 40 years since we first set foot on the moon. To celebrate the event NASA enlisted the help of a video/film restoration company to clean up the moonwalk images. The video beamed from the moon was much higher quality than that seen by television viewers on earth. The reason was that in order to conserve bandwidth so called Slow Scan TV was used. Of course such video wasn't compatible with the broadcast standards of the time so a scan converter had to be used to convert the SSTV to PAL and NTSC. This process degraded the video. No digital scan converters existed at the time so the scan converter was actually a television camera pointed at a high persistence phosphor screen.
The original SSTV was recorded on telemetry tapes at the time, but these were lost leaving only the lower quality broadcast copies. Fortunately some 21st century digital soap cleaned up even these poorer quality copies very nicely. From the photo below one can see that the restored video is very close to the original SSTV. A tracking station in Australia called Honeysuckle Creek was instrumental in bringing these pictures to the world.
Photo of original SSTV, 10fps 320 lines
18 July 2009
Exciting news is that Toyota is once again expanding their range of hybrid vehicles, with the Auris set to get the hybrid treatment. The Auris hybrid will share the drive train of the 2010 Prius, but will be smaller, less well equipped and consequently cheaper. The Auris will therefore give Toyota a car to take on Hondas' Insight. The cars are to be built in the UK. See article from The Guardian.
I hope Toyota will make the Auris hybrid available here in SA as well. The hybrid Auris may even beat the low fuel consumption figures of the 2010 Prius as it is lighter.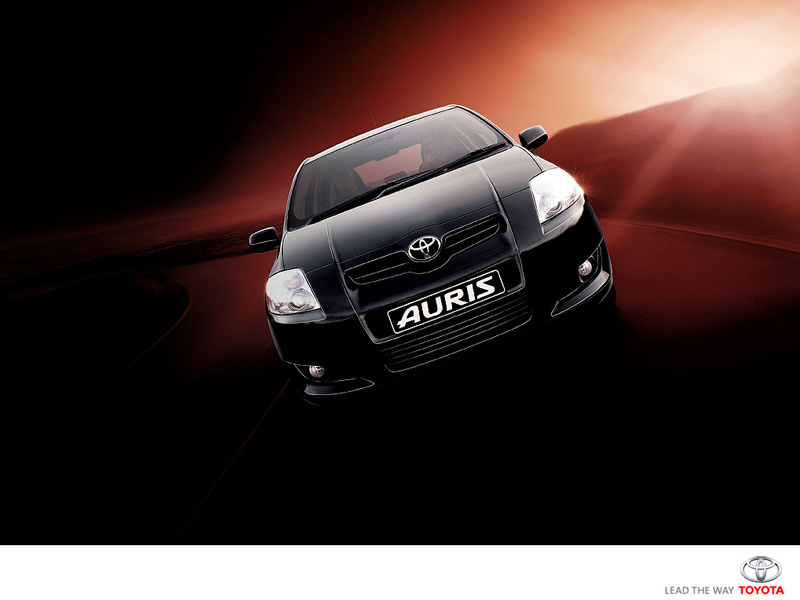 15 July 2009
It looks like CO2 does not cause climate change, the sun does.
Now before you lynch me, just look at this video and look, really look at the data. Then think again. Perhaps the whole issue of climate change is more complex than just pointing finger at one thing, ie CO2. We should still reduce our dependence on oil simply because the stuff is more valuable as a petrochemical than as a fuel. From the video it is stated that water vapour is a potent greenhouse gas too. I find it ironic because water vapour is produced when you burn hydrogen. Hydrogen is touted as the next big fuel. Hmmm...Zero emissions is still the best. Has the science become so politically loaded that we've lost sight of the facts?
What does this mean for my Prius? Nothing. It still emits less rubbish into the air, it still saves me money on petrol and it's still a cool car. One shouldn't emit stuff into the air that wasn't there to begin with. Cleaner, cheaper and accessible energy for everybody can only be a good thing.
14 July 2009
Is your Prius acting funny?
Blame the 12V battery. As far as automotive batteries go the Prius has a somewhat whimpy 12V battery. It actually does not need a large 12V battery like a regular car because it doesn't need to be able to crank a starter motor (the HV battery is used for turning the engine over). The Prius 12V battery is only used to boot and power the computers and close a couple of relays to enable the Hybrid Synergy Drive. The 12V battery is charged from the main HV battery by a DC-to-DC converter.
Recently a visitor to my website reported that his cars' MFD would "reboot" when he switched the vehicles lights on. It turns out his Prius had a bad 12V battery. A replacement cured the problem, but why did it happen in the first place? To operate reliably a computer requires clean stable power and this is why they often use devices called voltage regulators. It is the job of a voltage regulator to provide an absolutely stable voltage to a circuit even under varying load conditions. A 12V regulator can provide an absolutely stable voltage if it's fed from say 12.5V. There however comes a point where the voltage regulator just can no longer maintain a stable 12V output if the input voltage drops and the regulator shuts down. This is called the drop-out voltage and is slightly higher than the desired output voltage of the regulator. For example for a voltage regulator to provide a stable 12v, it would need a minimum of 12.3V input voltage.
A fully charged and healthy car battery has a voltage of 12.6 -12.8 V. If a load is applied to this battery the voltage will drop only slightly. If you connect a 12V regulator to this battery it should have no trouble maintaining a 12V output as the input voltage never drops below the regulators "drop-out" voltage. If the battery is old and failing the voltage may drop a lot more under load than usual.
Getting back to the rebooting MFD problem, in this case the vehicles' battery had enough voltage to maintain the regulator at 12V. As soon as the lights was turned on the battery voltage would dip slightly. This momentary dip during switch on was enough to make the voltage regulator drop out and shut down (the lights take a very short surge of current before the filaments heat up). As soon as the battery recovered, the voltage would rise again and the regulator would activate. The result is that the MFD would appear to reboot when you switch the lights on.
There are many other computers in a Prius and they all require stable power. If you encounter a funny computer related problem in a Prius it is always best to check the 12V battery first.
12 July 2009
Washed the Prius yesterday and checked the tire pressures. Just as well because the weather turned really bad today.
3 July 2009
I have sympathy for the vision impaired. Really I do, but this must be the dumbest idea ever!
I like my hybrid car because it is quiet. I will NEVER buy a hybrid vehicle with a "noisemaker". I'll demand the dealer disable or remove it. I'll do it myself if I have to. How about this? You cannot hear the "quiet" hybrids because the other cars are so noisy. Make all the cars quieter. You lower the noise floor and suddenly you can hear the quiet hybrids too. A car always makes some noise, especially the tyres. There's also no evidence that hybrids make roads any more dangerous for the vision impaired. Incidentally all cars already have a noisemaker. It's called a horn and should be used to signal anyone who may walk in front of your car.
In other news I also washed the Prius today. I had to polish the entire front bumper and also the bonnet. The whole area was covered in tiny black dots. The Toyota badge on the front annoys me somewhat. Once you get polish into the crevices of that thing it's near impossible to get out. A toothbrush helps.
30 June 2009
I spent the last 3 weeks in Switzerland on holiday so that's why there were no new updates till now. I was lucky enough to see two 1st Generation Prius driving around and about a dozen 2nd Generation Prius. I also visited a Honda dealership in Fribourg and managed to see the Insight and Civic Hybrid close up. There doesn't seem to be a massive number of hybrids in Switzerland, people opting for diesel instead. What I did notice though is that diesel vehicles in general have particulate filters. Not once did I see a diesel vehicle belch soot. The swiss seem to be big on air quality. While walking through Fribourg I noticed a mobile air quality monitoring station parked next to the road.
Here's a bit of advice. When you go away for a while just park your Prius on a level surface and put it in P. Don't engage the parking brake. While I was away my housemate phoned and said he tried to move my Prius but the parking brake was stuck on. As a result it wouldn't move too easy and the back would lift up on reverse. The red triangle also came on. He took it for a drive and braked hard a few times to clean everything. We had lots of rain and I parked the Prius wet before I left. Things rusted. My bad! She's fine now.
Apparently it's common for parking brakes to freeze stuck in very cold climates. In my case rust from rain was the issue.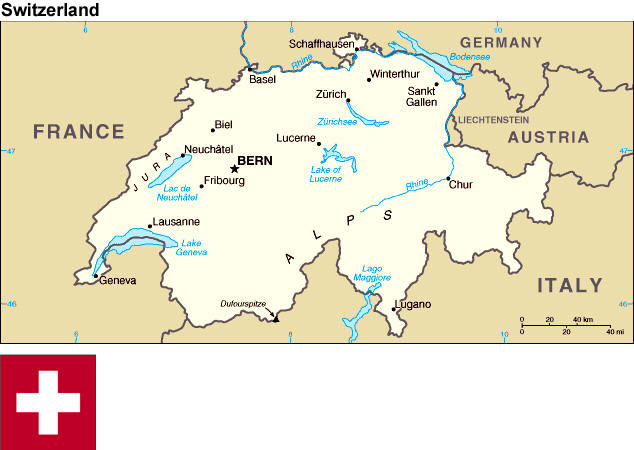 Also while I was in Switzerland:
30 May 2009
Very cold!. I took advantage of a break in the weather to wash the Prius. It was very dirty and it was driving me nuts. I also put some C-Thru on the windows to help with the rain.
20 May 2009
It was actually hot and sunny today. Where's winter?
19 May 2009
Today is my birthday, yipee. Also a nice sunny day. Often in the past it would rain on my birthday but not this year. In other news, US President Barack Obama announced limits on fuel consumption for cars and trucks. For the first time the US government is taking a leading role in curbing climate change. Under the new standards, all new passenger vehicles sold by 2016 must get 39mpg (6 l/100km) or better. Read full article here. My Prius already uses way less than that.
15 May 2009
The weather is all windy and rainy. There's a big Cape storm hitting this weekend.
13 May 2009

Saw a gorgeous black Prius.
6 May 2009

Passed a very cute silver Prius on the highway. The driver must've been hypermiling cause he wasn't going fast at all. Good. I've been using my cruise control set at 105km/h and getting consumption figures of 4.6 l/100km.
4 May 2009
2 Years as a happy Prius owner!
Current Odo 76616km
22458km/year
Two Prius sightings for today.